Business Protection for Bloggers
Risks for Bloggers: Here's How to Protect Yourself
Blogging can be a dream job for people who like to write: You can work flexibly, explore topics that you enjoy and ideally also earn good money. But as many advantages as the profession offers, there are also some risks that could cost you dearly in a worst-case scenario. We tell you what can go wrong in the blogging business and how bloggers can protect themselves.
Blogging the Right Way: Here Are Some Risks You Might Face
The bad news first: Unfortunately, if you want to make money with your blog, it's not enough to just create a website in Finland and happily start writing. Commercial blogging is subject to legal rules that you should absolutely comply with – because violating these rules has consequences that can range from a hefty fine to criminal penalties.
Risk 1: Registering a Business
If you want to earn money with your blog over the long term, you have to register a business regardless of the topic and size of the blog. It's better to take this step sooner rather than later, because you face the risk of fines if you register your business late. And if you take this too far and fail to register as a business with the authorities for a long time, you may also be charged with tax evasion.
Risk 2: Taxes
If you generate income in Finland, you also have to pay taxes on it. There's no way around income tax – the tax office will determine the income tax you owe based on your annual tax return.
Risk 3: Gifts in Kind
Once you are a bit more established as a blogger, companies may want to benefit from your reach. This often takes the form of gifts such as products or services, which they would like you to review on your blog. For example, if you cover the latest trends in the gaming scene, you might be given some games that you can keep after reviewing them on your blog. Or you could be invited to events and receive free hotel accommodation.
So be sure to note: If you're promoting a company, what they give you is actually NOT a gift – after all, you're giving something in return. Tax law describes this as a "monetary benefit", since you're being paid for a service, so to speak. That's why gifts in kind are taxed like everything else as soon as they exceed a value of 10 euros. Let's stay with the gaming example mentioned at the beginning: Say you receive a game worth 60 euros from a publisher. After discussing the game on your blog, you get to keep it. You're required to pay tax on this 60 euros as income in kind, since your profit increases by exactly this amount.
Risk 4: Violations of Rights
Bloggers often add photos, graphics or memes to their posts. Because nobody likes to just see a desert full of plain text! The internet is teeming with sites where images are offered for free download. But be careful: That doesn't mean you can just post them on your blog.
Copyright law precisely dictates which works are protected by law. This protection applies if it is a personal intellectual creation. This is the case, especially with regard to photos in which the photographer has selected the location including the image details and staged the shot at their own discretion.
For example, before you use an image created by someone else, the author has to grant you the rights to use it. This is often done through photo agencies that market the image rights on behalf of the photographers. You can usually buy images for your own use for a small fee through these agencies.
Pay Attention to the Usage Agreement
But beware! Such use is also governed by a usage contract with certain rules as to where and how you may use the images and how and to what extent the author of the image must be named. In any case, you should read the license conditions carefully and adhere to the specifications there. If you don't comply with these requirements, you could be committing copyright infringement. There are even companies now that are specialized in uncovering such violations. If they find you've done something wrong, you may face written warnings and fines as well as court proceedings in the worst case.
Texts and Quotations Are Also Protected by Copyright
Copyright doesn't just apply to images, memes and graphics, but also to texts, so caution should also be exercised when using quotations. When you use a quote, it always has to serve a purpose and not simply serve to embellish your own work.
Risks Associated with Trademark Law
When it comes to violations of rights, bloggers have to look out for more than just copyright. Trademark law also has its pitfalls! If, for example, the registered word mark of a company finds its way into your blog's domain name, you can expect a written warning by the mark owner. This is exactly the issue some "fan bloggers" for Windows and IKEA faced. The bloggers' website and newsfeed app, for example, had the term Windows in their name – which is definitely a violation of trademark law. The operators of the do-it-yourself site ikeahackers.net were suddenly confronted by the furniture giant with a written warning after eight years due to a trademark and domain law infringement.
Risk 5: Surreptitious Advertising
Working with advertising partners is a worthwhile tool for making money with your blog. But the law explicitly states that you must clearly distinguish between advertising and editorial content for visitors to your blog. Because Directive 2005/29/EC of the European Parliament and Council of 11 May 2005 on unfair commercial practices in internal market business transactions between companies and consumers prohibits disguising advertising as information.
That's why bloggers have to keep this in mind: It must be clear to the reader on every blog which articles are editorial content and which content is promotional. This means that bloggers not only have to clearly separate the relevant advertising from the rest of the content, but also clearly label it with words such as "advertising" or "advertisement".
By complying with these requirements, you not only reduce the risk of receiving a written warning, but also present your blog as a serious web project. It's best to focus on transparency from the start.
Risk 6: Legal notice / Imprint
For everyone who operates a website, there are some legal "basics" that you should also adhere to as a blogger if you want to avoid fines and written warnings. The first thing to mention here is probably the requirement to post a legal notice (also known as an "imprint"). According to Directive 2000/31/EC, a legal notice is required for "business-related online services", which affects any blogger who doesn't blog purely privately and intends to earn money with their blog. According to Article 3 paragraphs 1 and 2, each EU country must ensure that service providers provide a legal notice.
The legal notice must contain the following mandatory information:
Site operator / data controller with surname, first name and address
Contact details of the website operator (email address, telephone number)
For companies: The legal form, representative, the register entry and the VAT identification number (if available)
The legal notice must be "easily recognisable, directly accessible and always available" on the page. To be on the safe side, bloggers should include the legal notice as a separate menu item in the navigation, which can be reached from every subpage of the blog.
The purpose of these regulations is to provide users with the basic information about the operator of a website and provide a contact person (for legal matters, among other things).
Risk 7: Data Protection:
In addition to legal notice, your blog also needs a data protection declaration (also known as a "privacy policy"). It must also be accessible from every subpage of your blog and provide precise information about which personal data you collect, store and process and for what purpose. This also includes the integration of social media plugins, the handling of comments or the use of programs such as Google Analytics.
It's really important here that visitors to your blog must be able to prevent the processing of their data. In this respect, the safest way to go is with a so-called "opt-in banner", which not only informs your users about the use of cookies, but also requests active consent to the processing of their data.
Risk 8: Cybercrime
If you run a blog, you're responsible for security in addition to the content. Cybercriminals have long seen blogs as worthwhile targets for stealing data or hijacking your contact form for automated attacks. And if you neglect security, in the worst case, you could be guilty of a data protection violation that will result in penalties and fines. Your hosting provider may also block your website for security reasons.
So always use the latest version of your browser, use secure passwords and back up your data regularly.
Professional Indemnity Insurance for Bloggers - Well-Insured While You Write
Even if you follow all the rules of the game, you still might face a written warning from a lawyer. Or you could mistakenly add a copyrighted image to your website with a careless click. That's why you need good Professional Indemnity Insurance from the start, which will provide comprehensive coverage in an emergency. Professional Indemnity Insurance through exali offers bloggers optimal protection, tailored to their business and is at your side in the event of claims for compensation, written warnings and violations of rights. Of course, it's also great if you don't blog full time but just as a side hustle.
In the event of a written warning, for example due to the infringement of rights or due to a data protection violation, the insurer will check at its own expense whether the action is justified (for example, it will pay lawyers, court and expert fees). In the event of a justified claim for compensation, the insurer will pay for it.
With the First-party Cyber and Data Risks Insurance (FPC) add-on, bloggers can also protect their own business in the event of a hacker attack or other types of cybercrime (e.g. DDoS attacks or data theft). If an attack occurs, the insurer bears the costs of restoring the IT systems, commissioning computer forensics specialists and crisis management.
Author profile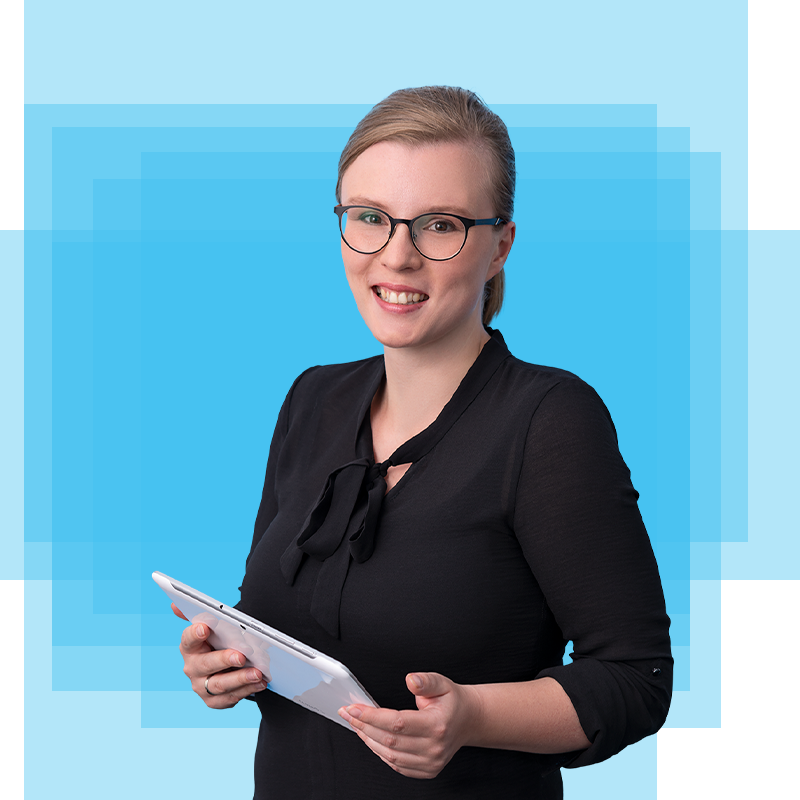 Vivien Gebhardt is an online editor at exali. She creates content on topics that are of interest to self-employed people, freelancers and entrepreneurs. Her specialties are risks in e-commerce, legal topics and claims that have happened to exali insured freelancers.
She has been a freelance copywriter herself since 2021 and therefore knows from experience what the target group is concerned about.