Strategies for Online Marketing
Customer Journey: How to Ensure a Successful Customer Journey
Before someone interested in your product or service becomes a buyer, they encounter your offer in different ways. But what makes customers come to you? And more importantly: What stops them? You can answer these questions by creating a customer journey map. We tell you what this tool is all about and how you can use it to your benefit.
Customer Journey – What is it?
The customer journey describes how a potential customer goes through various touchpoints with your company. Typical touchpoints include, for example, advertisements, visiting an online shop or participating in a bonus programme. At the end of the journey, the prospective customer will ideally take an action you want – for example, making a purchase or sending an inquiry. To achieve this goal even better, it helps to represent this customer journey graphically - with a customer journey map.
Customer Journey Map – Why?
The most important goal of a customer journey map is to get to know and understand your (potential) customers better. It should help you to identify and expand positive moments in the user experience and, conversely, to identify and eliminate negative experiences. If you know what your target group likes and how they behave at which point, you can better adapt to them and align your measures (e.g. marketing or sales) accordingly.
When creating a customer journey map, you should try to make all points of contact that a potential buyer has with your company on the way to conversion visible and transparent. A conversion is a target action defined in advance for users - such as buying a product or filling out a contact form.
Customer Journey Map – the Structure
A customer journey map visualises the customer journey in a linear fashion. So using a matrix as a form of representation makes sense. Each axis is of great importance.
X axis
This is where you list the touchpoints, i.e. the individual steps that your customer goes through - from the first need to the commitment phase after completing the first purchase. Feel free to go into detail. Because the more steps you place on the horizontal axis, the better you can analyse your customers' experience afterwards.
Y axis
This is where you show the analysis levels for the respective steps. You can set these as needed, depending on what you want to know about your customers. This could include for example:
Wishes and intentions of the customers
Marketing measures for the respective touchpoint
Internal processes
Creating a Customer Journey Map Step by Step
Creating a customer journey map may seem like a lot of work at first glance, but it makes a lot of sense as a way to visualise where and how you can draw in prospective customers. If you stick to the following steps, the work will be a little easier for you:
Step 1: The Right Team
Make sure that representatives from all the departments are involved in creating the customer journey. This ensures you receive valuable input from many different perspectives and keep the focus on your customers at every step.
Step 2: Define the Target Group
Identify the audience whose "journey" you want to study. So-called "personas" are helpful for this. They are fictitious people who represent a target group with their characteristics (education, job, hobbies, age, etc.). For each of these people, you consider why they might be interested in the company's products or services, how they found out about them and what their motives are for the purchase.
Step 3: Identify Touchpoints
Then you identify all the points of contact that a customer can have with the company. You have to distinguish between two types of touchpoints:
Controllable touchpoints (e.g. advertising, trade fairs, events, email marketing, SEO)
Touchpoints that can't be controlled or can only be controlled indirectly (e.g. friends/acquaintances, social media, forums, blogs, rating portals).
To create the first version, you and your team can put yourself in the position of your target group. Test your product or service from the customer's perspective to determine the strengths and weaknesses. However, when creating the customer journey, you should not rely solely on these assumptions. You need to verify them with data. A data analysis can be useful for finding out where the touchpoints with your company are. You can get the data from the following sources, among others:
Tracking of the company website, social media, newsletter, for example with tools like Google Analytics
Customer inquiries, ratings and feedback
Reports, studies or market analyses
Whatever method you use to identify the touchpoints: If you are unable to back up an assumption with numbers, you should make this clear in the customer journey map. On the other hand, if the numbers paint a negative picture in some places, don't give in to the temptation to whitewash the situation. Because the customer journey map will only be helpful if you stick to the truth.
Step 4: Arrange the Touchpoints
This step is about putting the touchpoints in chronological order - from the first contact to the retention phase (e.g. after buying a product). Unfortunately, your customers don't all do things in the same order. Some first learn about your product from friends, others see a poster or an online advertisement. So you should divide touchpoints into phases that always take place in the same order:
Activation phase: In this phase, the potential buyer becomes aware of your company or product for the first time (e.g. through friends or an advertisement).
Information phase: The potential customer is actively looking for information about your business or product. This is where marketing comes in, which has to ensure that a lot of contact points are created.
Action phase: In this phase, the customer implements their planned action (e.g. buying a product). This is where your company's sales measures take effect.
Customer retention phase: In this phase, you have to ensure that the buyer is satisfied after the completion of their first purchase and stays in contact with the company (customer relationship management).
Step 5: Measure Customer Satisfaction
Next, determine how satisfied your customers were at each touchpoint. The best way to find out is to ask the customers. This can be done, for example, via feedback bars on your website, rating links in emails or rating buttons directly after the service. But keep in mind: Be brief! The easier you make giving feedback, the more willing buyers will be to leave input.
Step 6: Create a Customer Journey Map
The last step is to visualise the information you gathered in a customer journey map. Stick to the matrix mentioned at the beginning.
Identify Weaknesses in the Customer Journey
Even the best customer journey map is useless if you don't derive any consequences from it. Now that you know which touchpoints customers were satisfied with and which ones they weren't, you should immediately take action to improve user contact at these points. Otherwise it can happen that the potential customer jumps ship and doesn't continue their "journey".
These questions can help you identify weak points:
At which touchpoints is the customer dissatisfied?
Which departments are responsible at this point or which internal processes have an influence on customer satisfaction there?
What can you do to improve these processes?
Also, consider the option of not only improving the customer journey, but also expanding it, i.e. creating new touchpoints. You should ask yourself these questions:
Which phases have few touchpoints with customers?
What additional touchpoints does the competition have?
If you add new touchpoints, can you also take care of them properly?
The last point is particularly important. Because there's no point in creating new touchpoints if you don't have the capacity to ensure a positive customer experience at this point.
Note:
If you want to create new touchpoints, it is also important to place them sensibly. In our article Brand Safety: Tips for your Business, we tell you how you can achieve this in advertising .
Improving the Customer Journey
Now it's time to get specific. You've identified the weak points in the customer journey. Now, of course, you also want to eliminate these negative points. These measures can help.
Personalisation and Customer Focus
Potential customers want to be addressed personally. They don't want to have the feeling of being one among many. They want to feel important as individuals to a company and feel that their interests and needs are taken into account. So be sure to align websites, offers and content with what your customers want and are looking for. Keep in mind: Be proactive! Think about what problems your target group might have and offer solutions. If the potential customer gets solutions to problems and answers to their questions from you, they feel that they're being taken seriously and are much more willing to buy from you.
Omni-Channel Strategy
Another way to improve the customer journey is with an omni-channel strategy.
Omni-channel marketing: What is it all about?
Omni-channel marketing is the further development of multi-channel marketing, in which you offer customers a cross-channel service. You can come into contact with brands and products via websites, apps, social media, flyers and many other channels. With multi-channel, however, each channel often stands on its own and acts independently - even to the point of competing with each other. This separation no longer exists with omni-channel marketing: Collect and update product and customer data centrally. That way it is always available everywhere in the company.
The good news is: If you've identified the touchpoints with buyers in your company and created a customer journey map, you've already laid the foundation for an omni-channel strategy!
In order to build an omni-channel strategy on this basis, these additional points are important:
Make all the data about a customer available at any point in the company at any time! This means that every department in a company must be able to see all the customer information. This includes, for example: processing status for orders, status of points for any bonus campaigns, last contact with customer service, and the reason for the contact.
Update all data centrally.
Manage product data centrally.
Continue to develop your payment system and expand it with payment, web tracking and search options.
Keep content up to date and appropriate for the target group and avoid duplicate content.
Make your website and online shops mobile-friendly. This ensures the content is optimally displayed on smartphones and tablets and the page ranks better on Google.
This is what an omni-channel strategy might look like in practice: A shopper enters a branch of a store from which they have already ordered something online. They register there for a bonus program. When they enter the store, they are identified using NFC (Near Field Communication, i.e. contactless data transmission) or another technology. This could happen, for example, with an app that the customer has previously downloaded. Of course, all this needs to take place in compliance with the applicable data protection regulations and with the consent of the customer.
The staff in the store now knows exactly what the buyer has already ordered, what is in their shopping cart or what is on their wish list and can advise them accordingly. In addition, the store staff can then add the information from the sales pitch to the customer account so it is available for the next online purchase.
Up-Selling and Cross-Selling
Up-selling and cross-selling also play a role here. This means offering the buyer a product based on their purchase that complements their choice (cross-selling), for example a replacement battery or a camera bag if the customer has previously bought a camera.
Retailers who skilfully use their knowledge of their prospective customers can also guide them to a higher quality and more expensive product than the one they were originally looking for (up-selling). This strategy can also work with additional services, such as support, training programmes or equipment insurance. This requires instinct and precision: The recommendations shouldn't get out of hand and need to be tailored precisely to the target group.
Accelerate the Customer Journey
Time is also a crucial factor in a good customer journey. Because if someone has to search forever for a product or has to wait a long time to get an answer to a question, you will lose them as a buyer. That's why it's important to speed up and simplify processes, for example through the following measures:
Apps: In addition to a mobile website, apps are an ideal supplement that customers can use to shop or find information quickly and easily while on the go.
Social media login: If buyers can log in via their Facebook account, for example, they don't have to register first, which is time-consuming.
Chatbots: By using chatbots, you can speed up the ordering process in the company, for example through automatic order and shipping confirmations. Chatbots can drastically reduce waiting times in support or customer service. However, a chatbot should never completely replace personal contact!
Securing the Customer Journey
As simple as a positive customer experience may seem for your business, it's not only important to respond to their needs - you also have to comply with some legal regulations. If you track your customers' behaviour, you are subject to data protection regulations, with email marketing you even need the double consent of subscribers, and even your product advertising is comprehensively regulated by law. Violations can result in expensive fines and claims for damages.
With
Professional Indemnity Insurance
through exali, you can protect your company. If the worst comes to the worst, the insurer clarifies the question of liability and covers justified claims for compensation. Unjustified claims brought against you are rejected on your behalf. So you can concentrate on the most important part of your business - your customers.
Author profile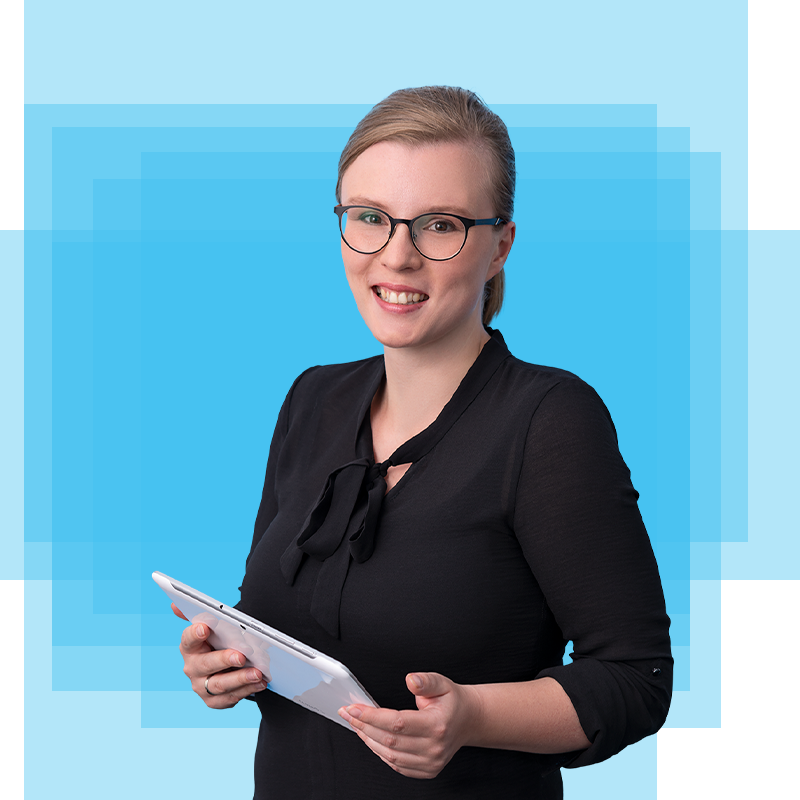 Vivien Gebhardt is an online editor at exali. She creates content on topics that are of interest to self-employed people, freelancers and entrepreneurs. Her specialties are risks in e-commerce, legal topics and claims that have happened to exali insured freelancers.
She has been a freelance copywriter herself since 2021 and therefore knows from experience what the target group is concerned about.