Provider Blocks Domain - a Real Damage Event
Domain Blocked: Artist Fights For His Livelihood
Freelancers and the self-employed depend on their business being visible to their target group. But what do you do if you are suddenly unable to access this important customer acquisition opportunity? An artist insured through exali was confronted with precisely this serious situation when his domains were blocked. We have summarised the whole story for you in this real exali damage event.
Hosting Provider Blocks Artists' Websites
As a freelancer, you need ways to make your products and services visible on various channels so that your potential customers become aware of what you have to offer. That's why having your own website is now standard for many freelancers. Especially in creative fields such as graphics, design or copywriting, freelancers often use their own website to present their work.
This was also the case for an artist insured through exali. He presented and sold his drawings online via several domains that he had registered with a large provider. To his horror, these domains, which form the basis of his business, were suddenly blocked, initially for no recognisable reason.

Domain Blocked Wrongly?
He had to act quickly and tried to find out the reason for the blocking. In response to his urgent enquiry, the provider explained the blocked domains by claiming that it was not possible to collect the monthly invoices for their provision by direct debit. Therefore, the outstanding payments were the problem. However, the artist quickly proved the opposite with the help of his bank: his account was always covered demonstrably and the provider could have accessed it at any time. But things were not that simple. Communication with the provider proved difficult and he was initially unwilling to unblock the domains.
Personal Damage Settled By Professional Indemnity Insurance
Finally, the artist remembered his Professional Indemnity Insurance and contacted the insurance professionals in exali's customer service department. They took on the case and immediately contacted the responsible claims handler at the insurer. The latter immediately enabled the artist to instruct a lawyer specialising in domain disputes. The lawyer finally achieved the important resolution of the domain blockade and thus the possibility of presenting the works online again. The insurer paid the lawyer's fee of 2,500 euros.
But how did the Professional Indemnity Insurer come to cover the costs of this curious case?
In principle, Professional Indemnity Insurance only covers damage caused by the policyholder to a third party. However, this case was different. The artist had not caused any damage to anyone, he himself was the injured party due to the "lost" domains. In this case, the costs could only be covered by an additional personal damage clause, which extends the scope of insurance in the exali insurance conditions for Professional Indemnity Insurance accordingly. This small but important text module reads as follows:
"First-party loss insurance
Modification or blocking of own website: The insurer provides the insured persons with insurance coverage for the required costs incurred by the latter due to the modification or blocking of their website as a result of unauthorised third-party interference, as long as the purpose of the costs is to reverse the modification or blocking. For this extended cover, a damage limit applies within the context of the sum insured for financial losses with a maximum of € 300,000 per insured event/year."
Tip:
The term "negligence" comes up again and again in connection with a damage event. Read our article to find out what this term means and how Professional Indemnity Insurance protects you: Negligence: What Professional Indemnity Covers.
As exali's experience shows, this non-contributory clause for customers is an important benefit extension for personal damage. Personal damage is damage that you or your business suffer directly. Examples include data loss due to a ransomware attack or, as in this case, the blocking of your own website. While the cancellation of a website blockage is already included in the insurance cover, you can optionally book protection against cyber risks such as hacker attacks, for example, via our Additional Add-on for First-Party Cyber and Data Risks Insurance (FPC).
With Professional Indemnity Insurance through exali, you therefore have a reliable partner at your side both in the event of personal injury and claims for compensation by third parties, who will examine the claims made against you and, if necessary, settle or defend it on your behalf if the claims are not justified. With the additional modules specially tailored to your industry, you can also optimise your insurance cover to suit your business.
Do you have any questions about our insurance solutions? Our customer service experts will be happy to help you on + 49 (0) 821 80 99 46 - 0 from Monday to Friday from 9:00 am to 6:00 pm (CET). Alternatively, you can use our contact form.
Author profile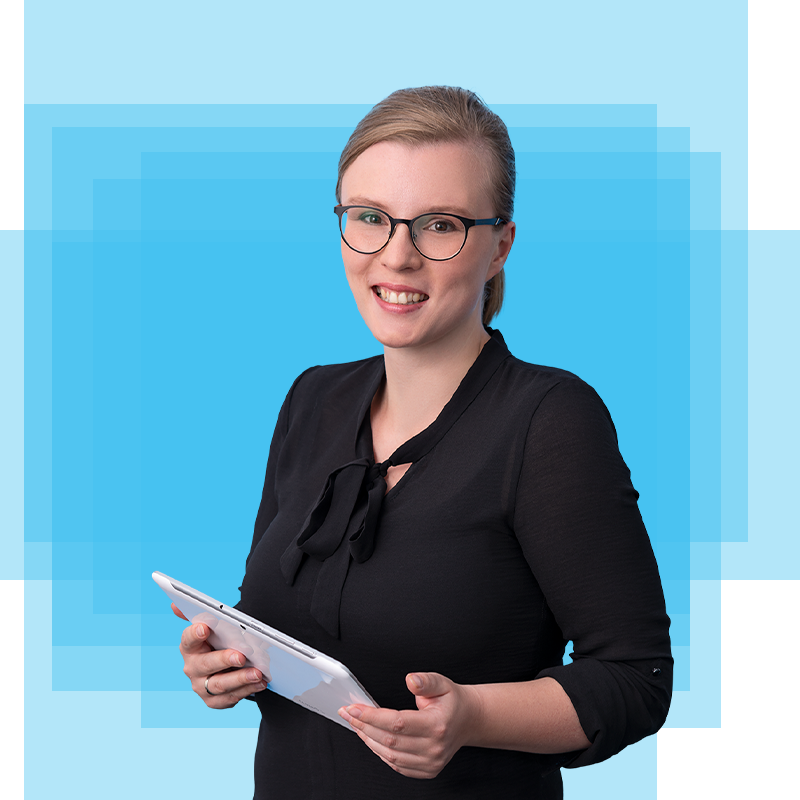 Vivien Gebhardt is an online editor at exali. She creates content on topics that are of interest to self-employed people, freelancers and entrepreneurs. Her specialties are risks in e-commerce, legal topics and claims that have happened to exali insured freelancers.
She has been a freelance copywriter herself since 2021 and therefore knows from experience what the target group is concerned about.