A software development trend
Low-Code: Now Anyone Can Be a Programmer!
Creating software or an application without any programming? With low-code development platforms, you can. The visual programming environments are intended be so simple that any employee can work with them. This saves expensive IT resources for important projects. We take a close look at the trend towards do-it-yourself software.
What Is Low-coding?
Put simply, low-code means "little code" or "little programming". And that's exactly what it's all about. Low-code development platforms are tools for creating software or applications. But instead of endless lines of code, they are created using visual elements. Using modules such as buttons, tables, flow charts or icons, users can model software easily using the "drag and drop" principle. And all of this with only minimal work on any actual source code.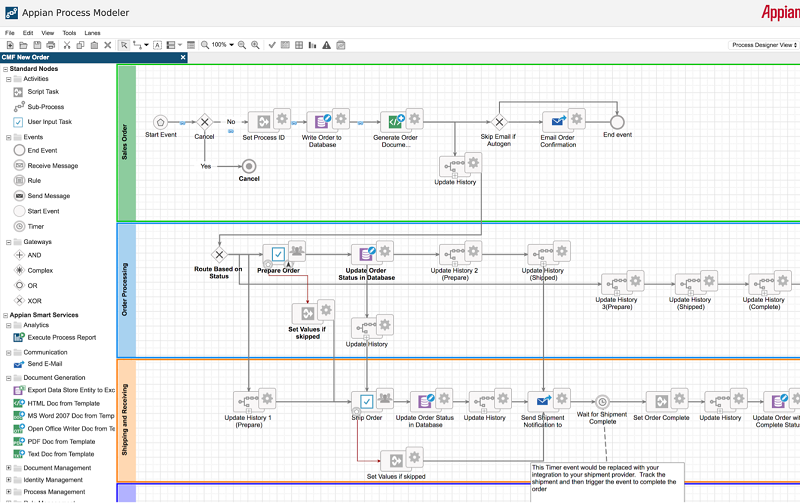 User interface: Appian Process Modeler
Some low-code platforms even get by without any programming whatsoever. As a result, entire applications can be created in a very short space of time. Up to ten times faster than conventional development.
A Famous Low-code Example
A well-known example of a low-code-based application is WordPress. Creating your own website is relatively easy with WordPress. According to the modular system, the website can be adapted to the user's own wishes and there are also ready-made designs available.
Programming and designing an individual website takes a long time. Every button and every function has to be created separately – which costs both time and money. With WordPress, a user can build a website quickly and cheaply. Even so, the system still leaves plenty of space for individual tweaks. Those who are familiar with programming can dive straight in, while site operators who need a bit of extra help can look to external providers such as freelancers to help them with individual wishes. A good explanation of how low-code is used is: A simple, visual interface for quick results that still allows for code editing in case of individual wishes.
What Are the Advantages and Disadvantages of Low-code?
Like most development environments, the low-code approach has its advantages and its disadvantages.
Advantages of Low-code
The low-code approach is particularly suitable for digitising internal business processes. With the visual programming of low-coding, IT-savvy employees can easily create, expand or optimise their own applications. This lightens the workload for the actual IT department, as they don't have to deal with simple, recurring tasks. This saves money and resources for more important and complex tasks.
Another advantage with low-coding is that by linking visual elements, you create both the code and the user interface at the same time. Put simply, this means that, depending on the software, you no longer have to design a user interface in addition to the code. Placing buttons, icons or search bars in the low-code display means that the interface is created automatically because the visitors will subsequently see exactly the same buttons and icons.
Because the visual elements have a logical structure, the error rate is very low and clean code is automatically generated in the background. Employees can work with the low-code platform themselves after just a short training period. This gives them a better understanding of software development and simplifies communication across departments. Plus, it's the specialists themselves who know best how to get the best possible support out of the software. With low-coding, they can expand and adapt the existing application themselves without any programming knowledge. The applications created benefit from manufacturer updates to the low-coding platform and can easily be expanded at a later date. This saves the user having to re-familiarise himself with the code before he can add to it.
Disadvantages of Low-code
When it comes to very complex and data-heavy applications, low-coding applications quickly reach their limits. Low-coding is also not suitable for security-related issues (e.g. IT security or highly sensitive data such as in the banking sector) or for external data exchange. With the modular system, users can only create something if the right module is available. Not every low-code platform can be linked to other applications, so users should pay attention to the functions provided when choosing a provider.
How Can Low-coding Be Used?
Low-coding is great to use wherever recurring processes take place. By creating an application, these steps can be automated or simplified and accelerated. You could create an application that trains new employees with step-by-step instructions, for example. The new employee reads a text and once he reaches the bottom of the text, he can move on to the next step. There he is shown a video and only after he has finished watching it can he continue to the next step. The automated tutorial can be adapted easily and continuously thanks to low-coding.
Another example is saving paper or documents. Companies often use countless different types of documents which are stored in huge, nested folder structures. For employees, repeatedly searching for the various documents, modifying them and saving them again is a tedious task.
To simplify this whole process, an app could be created with low-code that contains a form for applying for annual leave. An employee scans their personal QR (Quick Response) code and their personal data, like employee name and number, are entered on the form automatically. The employee can then enter their desired dates on their smartphone and sign on the screen with their finger. After the request is submitted, it goes straight to HR and is saved in the designated folder. HR can then approve or reject individual days for annual leave requests within the app. Employees can see at a glance which days they can still take off or which days are already being used by other colleagues.
The possibilities for using low-coding are many. Whether in manufacturing, eCommerce, administration, public authorities, as an app or for optimising processes, low-coding is a growing trend and experts are predicting strong growth and an increase in demand for low-coding solutions over the next few years.
Low-code Platforms: An Overview
Due to an increase in demand, there are already many providers of low-code platforms on the market. Each provider has different solutions for different uses. Here's an overview of a few low-code platforms:
Appian
Appian is one of the leaders in low-code platforms. The platform offers user-friendly development and security functions. With the process modeller and a cloud solution, applications can be developed quickly and easily. Appian offers style sheets and functions for administration across all devices and can be linked to many external systems.
Google App Maker
Internet giant Google is also involved in the low-code business. With the App Maker, developers can create applications quickly and easily using the "drag and drop" principle. The development environment is cloud-based and can be connected to all G-Suite components. G-Suite includes services like Google Drive, G-Mail, and Hangouts Meet (video conferencing). However, the App Maker is only available to G-Suite business customers. The business version of G-Suite costs €8 per user per month.
Microsoft PowerApps
With Microsoft PowerApps, users can create business applications or automate processes quickly and easily. To do this, the platform combines a cloud backend with tools so that apps can be created with templates using the "drag & drop" principle, for example. The platform also offers interfaces for programmers. Programmers can then expand the range of functions using programming languages such as Java or PHP. Applications created with PowerApps can be integrated into various services, including Office 363 or Dropbox.
MIT App Inventor
The App Inventor from MIT (Massachusetts Institute of Technology) is a free, low-code platform. The software was originally developed by Google, before being taken over and further developed by MIT. The App Inventor makes it easy to create apps for Android devices. To do this, the user is provided with visual elements which can be linked to one another using "drag & drop". The App Inventor is more of a learning software, but offers an excellent opportunity to get some basic experience in low-code and to try your hand at using it.
Don't Optimise Just Your Software
We're excited to see where the low-code trend will go. Comprehensive risk management is anything but "low". And that includes professional indemnity insurance. With professional indemnity insurance from exali, you are always safe. With our flexible add-on, you can expand your insurance coverage individually to suit your business. At exali, we don't have call centres or queues – your personal contact is always here for you.
Calculate your premium and get your professional indemnity insurance online in just a few steps here:
Author profile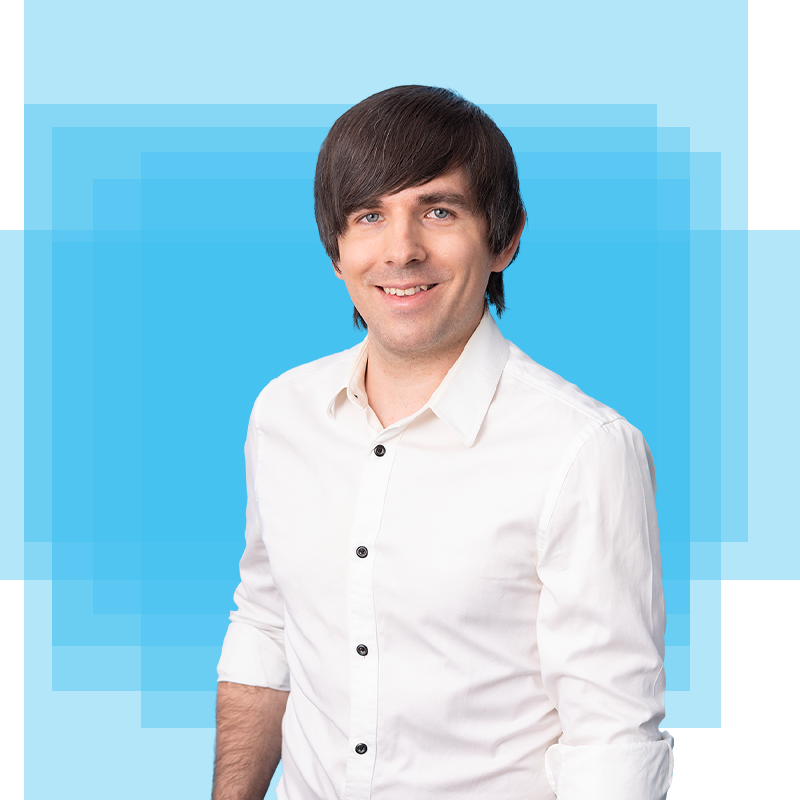 Jan Mörgenthaler has worked a lot with freelancers in various TV formats since 2017. He is regularly in front of and behind the camera, took care of the marketing of a gaming association on a voluntary basis and, due to this experience, knows exactly which topics freelancers are concerned about.
When he contributes articles to exali, they usually revolve around IT and cyber risks.