Is Mastodon the New Twitter?
Mastodon: How the Social Network Works
Tooting instead of tweeting? Since Elon Musk took over Twitter, more and more users are migrating to Mastodon. We took a closer look at the social network, show you how the platform works, who can benefit from it, and what you have to observe legally there.
The Elephant of Social Media
Mastodon isn't really the NEW social media platform on the block, it's actually been around since 2016. Eugen Rochko, a German software developer and now the founder and CEO of Mastodon gGmb (gGmb = non-profit limited liability company), started working on Mastodon right after graduating from university. His vision was to develop a decentralised social network that's similar to Twitter in terms of functionality, but isn't controlled by a single provider, so it can be shaped and redesigned by all users. So far, Mastodon has been especially popular with software developers and programmers, who also make up the majority of users.
Tooting Instead of Tweeting: "Mastodon" gets its name from a now extinct breed from the mammoth family. That's why posts on the network are also called "toots".
Is Elon Musk Destroying Twitter?
At the end of October 2022, Elon Musk took over the Twitter network and since then things have gotten very chaotic there: Fake news, bots and an increase in hate speech and harassment are troubling the platform - and some previously blocked accounts, such as that of ex-US President Donald Trump, have been reactivated. Then there are Musk's own tweets where he has posted Russian propaganda about Crime and the war in Ukraine, shared conspiracy theories, and threatened companies with consequences for stopping their advertisements. All of this not only caused a lot of companies to put their Twitter advertising on hold for the time being, but also made users turn away from the platform.
Right now, no one knows how many users have really left Twitter and how high the loss of sales is due to the stopped advertising. The only source on this is Musk himself, who tweeted "Massive drop in sales" and accused activist groups of pressuring companies. People have to use their own judgment when considering how reliable the source is here. But the fact is: One of the platforms benefiting massively from Twitter's recent nosedive is Mastodon: At the beginning of November 2022, Eugen Rochko posted on his account that Mastodon now has over one million active users – there were almost 500,000 new registrations between 27 October and 7 November 2022 alone. Of course, the network can't compete (yet) with Twitter and its 229 million active users (as of: July 2022), but it's still significant.
Is Mastodon the New Twitter?
Whether Mastodon really has what it takes to replace Twitter remains to be seen. The fact is at first glance the platforms are very similar. Mastodon, like Twitter, allows posts by other users to be shared and to appear in your own profile and in the community as a shared post (Mastodon: Share / Twitter: Retweet). It's also possible to "Favorite" other posts using a Star (Twitter: Heart). Unlike on Twitter, the character limit is 500 characters (Twitter: 280 characters) per post.
The big difference between Mastodon and Twitter – and most other social networks – is the decentralised structure of the network. This means that instead of an overarching server network, there is a large number of small servers (called "Instances" in Mastodon), which are connected to one another by open-source, free software. Anyone – whether it's a company, organisation or individual – can run their own Instance and also set their own rules for it, which apply to all users within the server.
Welcome to the Fediverse: The network of different Instances is called the "Fediverse" – a neologism from the words "Federation" and "Universe". It's probably no coincidence that the name is reminiscent of the "Federation of Planets" in Star Trek.
How to Get Started on Mastodon
Before you start using Mastodon, you first have to select an Instance – Mastodon offers a large overview page on this, which can be filtered by region, interests and/or language. With some servers you can simply create an account, with others you have to ask first and the respective moderators then decide whether you fit the server. You can in principle change the server again later, but you will loose all your followers – so it's definitely worth investing some time in choosing the right Instance.
What's important when choosing a server?
Because of the decentralised structure of the network, each server has its own rules, which are defined by the respective operators. It's also important to know that instances can also block each other – and such blocks apply to all accounts of the respective server. You should therefore look for an Instance whose rules you agree with. Unlike on Twitter, for example, the administrators of the Instances on Mastodon are very careful to enforce the rules.
Can I just open my own Mastodon server?
In principle: Yes This is the idea behind Mastodon: Anyone can use the open source, free software and open their own Instance – with their own rules. But if these rules massively violate the basic concept of the platform, "defederation" can occur. This means that all other servers block an Instance – most recently this happened to the Instance of the right-wing US network "gab".
How Do Posts Work on Mastodon?
Some things work very similar to Twitter, others work similarly with small differences, and some functions are not there at all, while other new functions are offered. We've collected some of the most important things you should know about when posting content on Mastodon:
Posting on Mastodon
Basically, "Tooting" works very similar to "Tweeting" – you can, for example, set who will see your post. The following options are available:
Public – visible to everyone
Followers-only – visible only to users who follow you
Direct – visible only to the people who are mentioned in the Toot; this is Mastodon twist on a direct message. So when you make a post and set it up so that only a specific person can see it, it works like a direct message on Twitter.
Posting Content on Mastodon
On Mastodon you can create posts with the following content: text, image and link. Videos are theoretically also possible, but most servers have a low upload limit, so it makes more sense to publish the video via YouTube, Vimeo or another video hosting platform and then share the link to the video in your post. Mastodon also offers the option to hold polls in posts and to integrate emoticons – but GIFs, which are very popular on other platforms, don't exist on Mastodon. As with other platforms, the assignment of content works by using hashtags.
Discovering Content
You can use the "Search" function to find topics of interest on Mastodon. Unlike on Twitter, there are no trends here, but a division into:
Posts – posts that are shared or discussed a lot
Hashtags – the hashtags that are currently the most talked about
News – a list of news articles that are currently the subject of a lot of discussion on the network
Community – these are the latest posts within your Instance
For You – suggestions are given of users to follow (based on the topics you post about and the accounts you already follow)
Commenting Yes – Quoting No
As on Twitter, you can also comment on other users' posts on Mastodon. But you can't quote a shared post (on Twitter there is a "Retweet as quote retweet" function).
Tooting and tweeting at the same time?
Users who don't want to give up Twitter completely can currently use services such as moa.party to build a "bridge" between the two platforms. Moa says it's "open source server code" that is maintained as a "public utility".
Reporting posts
Unlike other social networks, there is no central reporting body where you can report posts containing hate speech, racism or harassment. Instead, you always have to contact the administrators of the respective Instance.
How does the Mastodon community work?
Basically, Mastodon's structure is the same as on any other social network: You build your community by posting interesting content and following other accounts in the hope that they will follow you back. But what makes community building at Mastodon a little more difficult – especially for accounts that don't have a large reach from other networks – is the decentralised structure. After all, you will only see posts written and shared by users you follow in your feed. Favourites, on the other hand, are only displayed within the Instance community.
Can I Import Twitter Contacts?
Everyone is talking about the great migration from Twitter to Mastodon, but how can people find each other on the new platform? You can currently use the Fedifinder tool for this – you have to authorise the use of Twitter there and the tool then combs through your Twitter community to find out which of your contacts are already using Mastodon and, above all, where. It generates a list and then you can also follow the users on Mastodon.
Users migrating from Twitter to Mastodon can also add their new Mastodon account (full address @Username@MastodonInstance) to their Twitter profile (and a pinned tweet) so their Twitter followers can find them on the new platform.
Blocking and Muting
If you no longer want to see content from another account (e.g. replies to a post or posts in the Instance), you can also Block or Mute the user, just like on Twitter. As already mentioned, the operators of your chosen Instance can also completely block other Instances, which means: You can only see posts from individual users in this Instance if you follow them.
How to Use Mastodon as a Freelancer or Self-employed Person with Legal Certainty
You basically have the same obligations and risks on Mastodon as on other platforms. If you don't comply with the obligations, you risk receiving a legal warning.
Imprint Obligation:
Your Mastodon profile must contain an imprint (a.k.a. "legal notice") – or a link to it. The good thing is that while Mastodon doesn't allow links in the profile description, it does offer the ability to include links below the short description of your account. You can also save your other channels (e.g. Facebook, Instagram, YouTube) there.
Privacy Policy
Like the imprint, you also have to store your privacy policy or a link to it in your Mastodon profile. Keep in mind: Users can't be tracked via Mastodon itself – and no advertisements are allowed. You can store UTM parameters in your links, but tracking is then done via Google Analytics.
Copyright:
If you post images from other authors or use text quotations without naming the authors or clearly marking the text passage as a quotation, you risk receiving a legal warning for copyright infringement.
Sharing posts: Like Twitter, Mastodon offers the option to share posts. But Twitter has always had a special position in this regard, as it's also a platform on which artists publish their works or cabaret artists and comedians publish their jokes. That means some tweets are also works of art, so they are, strictly speaking, protected by copyright. However, both retweets and quote retweets are a basic function of Twitter – so anyone who publishes content there agrees to embedding. Things are probably similar on Mastodon – but this is important: If you take a screenshot of another user's Toot and embed this image in your own post, you may be committing copyright infringement.
Personal Rights:
This also applies on Mastodon: Don't post any pictures showing employees, business partners or customers without first obtaining the written consent of the people concerned.
Competitions:
Theoretically, you can also organise competitions on Mastodon – but make sure that this is permitted by the operators of your Instance. If you're organising the competition directly via Mastodon, you have to clearly formulate how users can participate (e.g. by sharing the post or by replying to the post), what they can win, and include a link to the terms and conditions of participation.
Social media – but Secure!
No matter how Twitter develops in the future – Mastodon is currently enjoying growing popularity among activists, organisations, journalists and bloggers. Some politicians and even parties have already switched to the Fediverse. Whether the big migration to Mastodon is just hype or whether the platform can establish itself in the long term isn't clear right now. The decentralised structure makes it very difficult for users with a small community to get started.
Regardless of whether you see Mastodon as relevant for your business or prefer to stay on other platforms: With Professional Indemnity Insurance from exali, you're covered if you receive a legal warning because of your social media activities – even if you made a mistake while managing your customers' social networks (e.g. when posting a competition).
Thanks to passive legal expenses insurance, in the event of a legal warning or a claim for damages from your customers, the insurer first checks at its own expense whether the claim is justified. Justified claims are accepted by the insurer, while unjustified ones are defended against on your behalf. Do you have questions about our Professional Indemnity Insurance? Please contact our customer service on +49 (0) 821 / 80 99 46 -0.
Author profile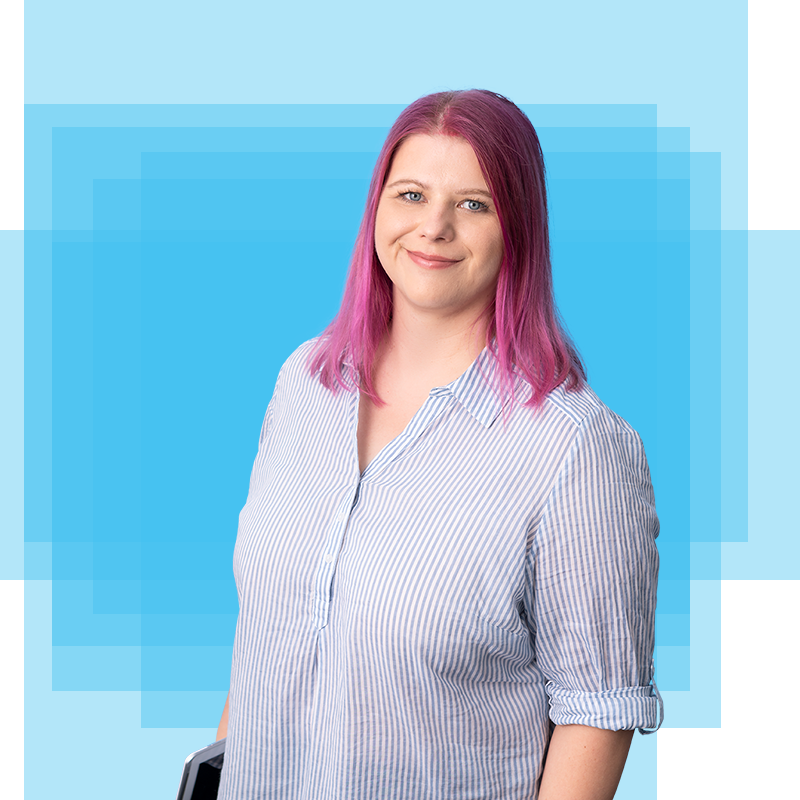 Daniela has been working in the areas of (online) editing, social media and online marketing since 2008. At exali, she is particularly concerned with the following topics: Risks through digital platforms and social media, cyber dangers for freelancers and IT risk coverage.
In addition to her work as an online editor at exali, she works as a freelance editor and therefore knows the challenges of self-employment from her own experience.