Benefits of Professional Indemnity Insurance
What Does your Professional Indemnity Insurance Do in the Case of a Damage Event?
What does Professional Indemnity Insurance actually provide if I report damage? This is a question we are asked time and time again by customers and interested parties. Most people know that the insurance pays compensation to the injured party if they have caused damage. But the insurance does much more than "just" pay a sum X. Find out here how Professional Indemnity Insurance can support you in the event of a claim.
Passive Legal Expenses Insurance: From Clarifying the Question of Guilt to Compensation
If you report damage to exali.com, the insurer will first clarify the question of guilt at their own expense, or whether you can be held liable. So-called Passive Legal Expenses Insurance is integrated into your Professional Indemnity Insurance, which means: The insurer bears the costs (e.g. legal or expert costs) to find out whether you are really (solely) responsible for the damage that is attributed to you. If the insurer concludes that the claim is unjustified, they will also pay the costs of defending it on your behalf, such as legal fees and court costs. In the case of a justified claim, the insurer pays damages to the injured party.
Since the insurer responds differently depending on the type of damage event, we have shown some typical damage events in the following graphics and outlined what the insurer does in which case:
Case 1: Warning for an Violation of Rights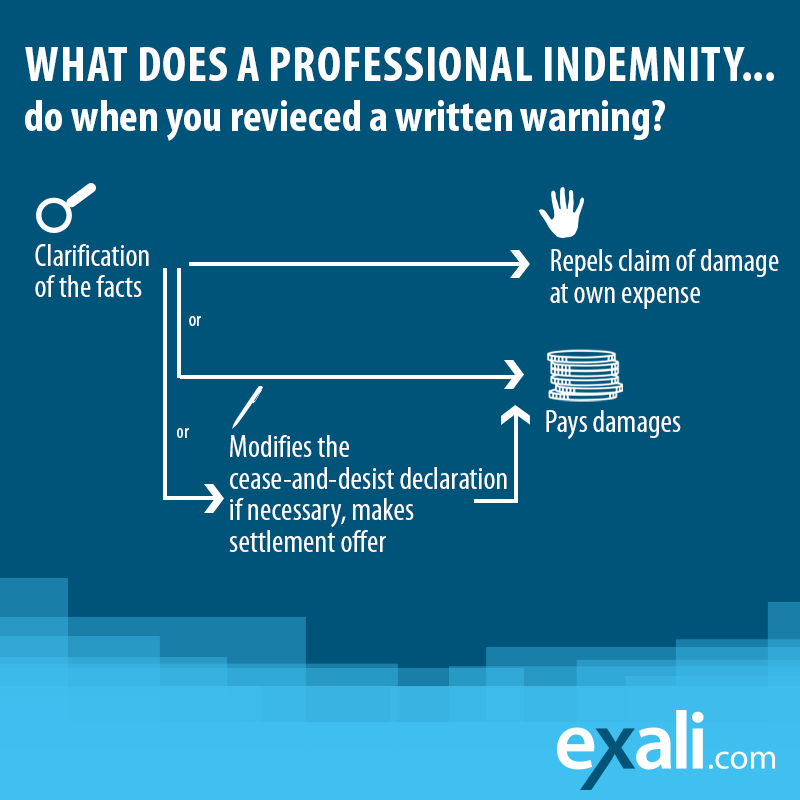 You have received a warning about a legal violation (e.g. due to a copyright violation or a data protection violation): The most important thing when you receive a warning is that you do nothing on your own and, above all, that you do not prematurely sign a cease-and-desist declaration. By doing so, you are making an acknowledgment of guilt. This means that you admit that you have committed the violation of rights that you are accused of in the warning letter and that you will not repeat it. But if you do this knowingly or unknowingly again, you will have to pay a contractual penalty.
Professional Indemnity Insurance is therefore particularly important in the event of a warning. Because the insurer first checks at their own expense whether the warning is justified and, if necessary, modifies the cease-and-desist declaration. Only justified damages will be paid and unjustified claims will be defended against at the expense of the insurance company.
Case 2: A Successful Cyber Attack by Hackers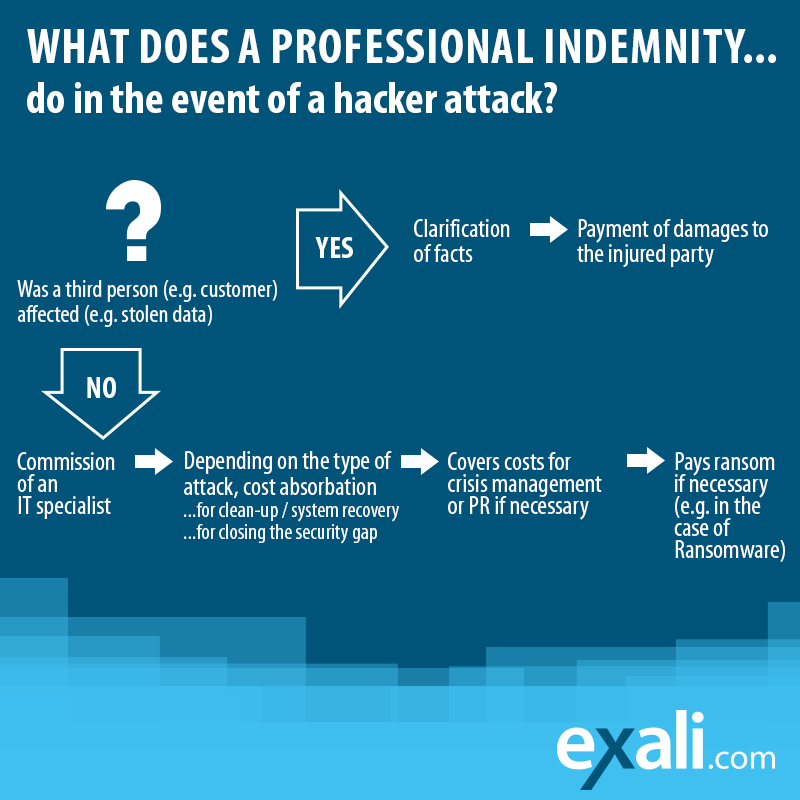 If your company or business falls victim to a successful hacker attack, the first question is whether "only" your own systems and data have been affected (so-called own damage), or whether others were also damaged (e.g. customer data was stolen). Depending on the case, the insurer will pay compensation to the injured party and cover the costs necessary to restore your own systems. This real exali damage event, in which a consulting firm unintentionally became an illegal bitcoin mine, also shows what a successful cyber attack can look like.
Case 3: Data Loss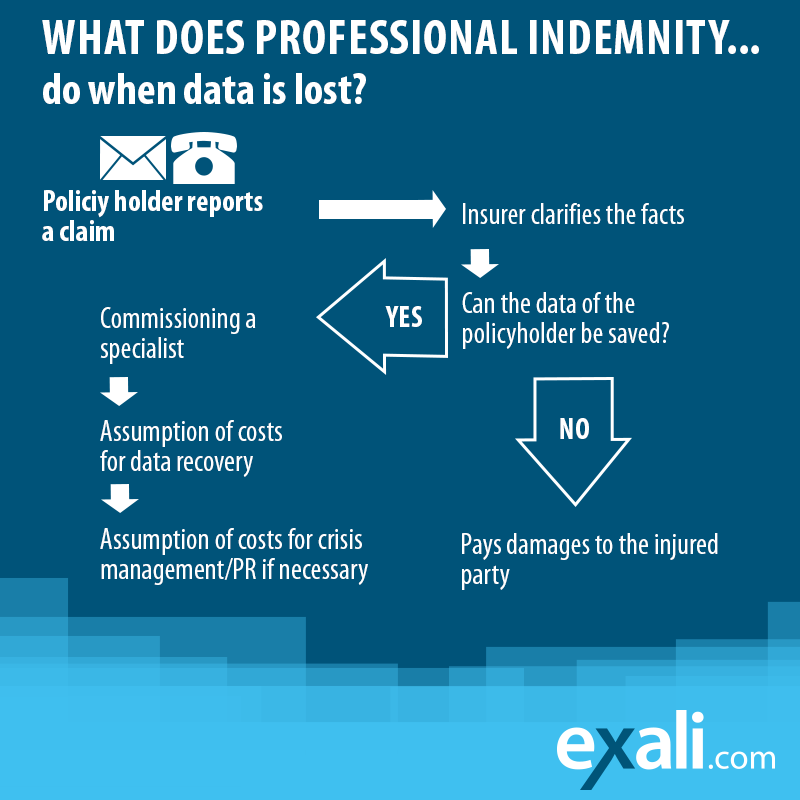 If customer data is lost, the insurer first tries to save the data by hiring a specialist. If the data cannot be saved, the insurer pays damages to the injured party. This approach is summed up very nicely in this real exali claim in which an IT service provider neglected the back-up and the data on his own hard drive was lost.
Crisis Management in the Event of a Hacker Attack
Negative PR and crisis management always play a role in a successful hacker attack in which data is lost. Because if it becomes public via social media or otherwise that a company has lost data or - even worse - that data is freely accessible on the internet, a shitstorm is pre-programmed. Customers and interested parties then quickly lose their trust and orders are lost. A scenario that can swiftly threaten the existence of the self-employed and small businesses. Therefore, Professional Indemnity Insurance also covers the costs of crisis management or PR advice in order to prevent a data scandal or to deal with it properly.
All information and examples from this article can also be found in a compact summary in this video:
Professional Indemnity Insurance through exali: Always by your Side
These were just a few examples of how Professional Indemnity Insurance can help you in the event of a claim. In general it can be said: Professional Indemnity Insurance isn't just about paying a certain amount of damages. It's by your side from the start, trying to minimise the damage and get the best outcome for you.
If you are interested in Professional Indemnity Insurance via exali.com, please call us at any time. Our customer advisors will advise you personally on the best insurance coverage, because we don't have queues or call centres.
Author profile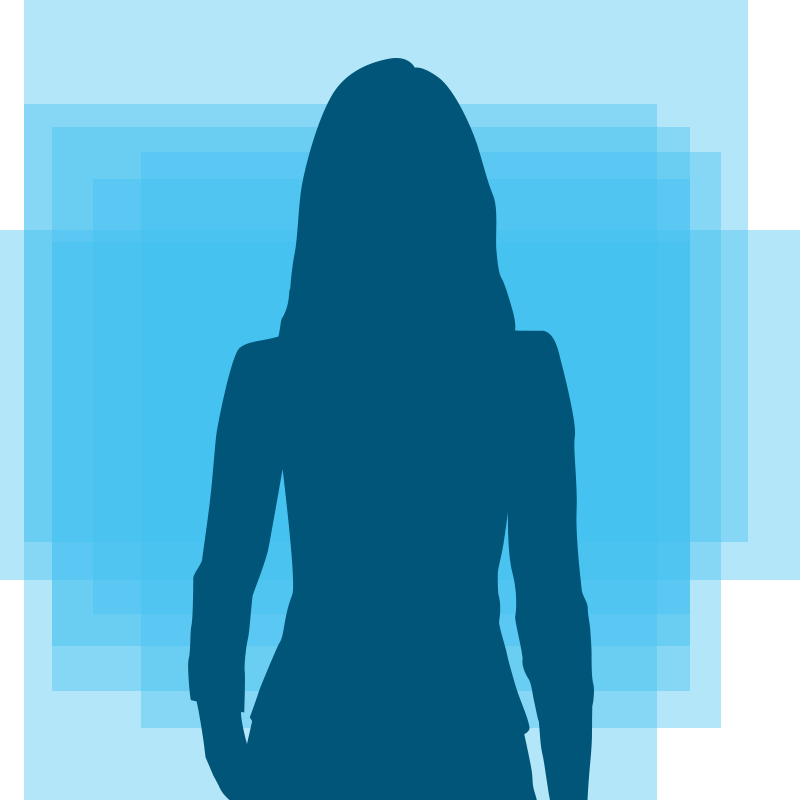 Who am I?
After a traineeship and a few years in corporate communications, I now work at exali as editor-in-chief of the online editorial department and am responsible for all content.
What do I enjoy?
Summer, travel, good food and football.
What do I dislike?
Travel by train, Brussels sprouts and slime.