Why Choose Professional Indemnity Insurance from exali?
exali does not use a one-size-fits-all approach: According to our understanding of the right professional indemnity insurance, the differing risks in the professional sector play a decisive role in the conclusion of a contract. That is why we not only offer cross-industry protection, but insurance through exali can be individually adapted to your business - tailor-made and without any gaps in coverage!
Tailored to your Individual Requirements: exali Professional Indemnity!
Are you a software developer and want to additionally protect yourself against first-party claims regarding data protection and cyber damage? Or, as the owner of an advertising agency, is it important to you not to get into financial difficulties if you make a mistake during project work? Not a problem! With exali Professional Indemnity Insurance for Digital Professions, you can decide for yourself which protection you need - and what you do not need.
Find the Right Professional Indemnity Insurance in Just a Few Clicks - Also in Real Time
At exali, paperwork and piles of files are a thing of the past, the world wide web is used in a contemporary way. With our online calculator you will receive your personal offer without obligations and in just a few clicks. In addition, the application itself can also be made online in just five steps. Step by step and understandable for everyone, you will be guided through the digital forms - say goodbye to complicated contract processing!
Especially handy: You determine the point in time when the insurance coverage will take effect. Do you want to be insured immediately in real time or from a desired date in the future? No problem with our professional indemnity insurance! And so that your customers know that they are in safe hands with you, we have created a self-marketing tool for the self-employed with our liability seal. This allows you to show your customers that your business is well insured.
Personal Customer Service Without a Call Centre
At exali, customer care is very important. In 2017, we even received the eKomi Award for particularly high customer satisfaction. Our experts will be happy to help and advise you. Regardless of whether it is a simple, clarifying question or a complicated damage event: Prospective customers and policyholders receive competent and expert telephone support from their personal contact person - without a call centre, expensive holding loops or technical insurance gibberish!
Comprehensive Insurance Protection Even in the Age of the GDPR
Before the GDPR came into force on May 25th, 2018, the impending fines and the complicated implementation of the General Data Protection Regulation made the headlines. But as an exali customer, you are also protected if you have to pay compensation for a GDPR violation.
From IT to Services to Consulting: The All-round Carefree Insurance Package
In practice this means: Regardless of whether you are a programming expert, consultant or web designer - at exali, policyholders from a wide variety of industries will find comprehensive insurance coverage.
IT & Engineering
Your business is characterised by your IT expertise? With professional indemnity insurance for digital professions from exali, you cannot only cover IT projects that started in the past, but are also protected against loss of sales by your customers, violation of rights and worldwide financial losses. And that applies to certain contractual penalties as well as expensive claims for damages.
Agencies & Creatives
Even as a media creator, you will unfortunately not be spared from professional mishaps. exali offers you the right indemnity insurance which offers you coverage should, for example, advertising or print jobs go wrong or unpleasant warning letters from a lawyer find their way to your place of business. You are also always armed against first-party claims regarding data protection and cyber damage.
Consulting
Are you a consulting expert and ready to give your customers and principals helpful advice at any time? Caution! Expensive advisory mistakes can inadvertently occur in this field! We offer you optimal insurance protection, since consulting liability applies to almost all consulting activities: from classic management consulting to data protection and compliance advice. But interim managers and M&A advisors can also protect themselves comprehensively.
News & Stories, Blogs, Youtube & Social Media - More than Just an Insurance Portal!
As an insurance portal, we also attach great importance to providing our customers with the latest news and exciting services and advice topics on a daily basis. Would you like to know which stories are currently shaking up the world of freelancers and self-employed? Are you interested in a current legal decision or research in your industry? Then you have come to the right place at exali News & Stories! A wealth of professional and informative specialist articles awaits you here.
Calculate your premium and get your professional indemnity insurance online in just a few steps here:
Author profile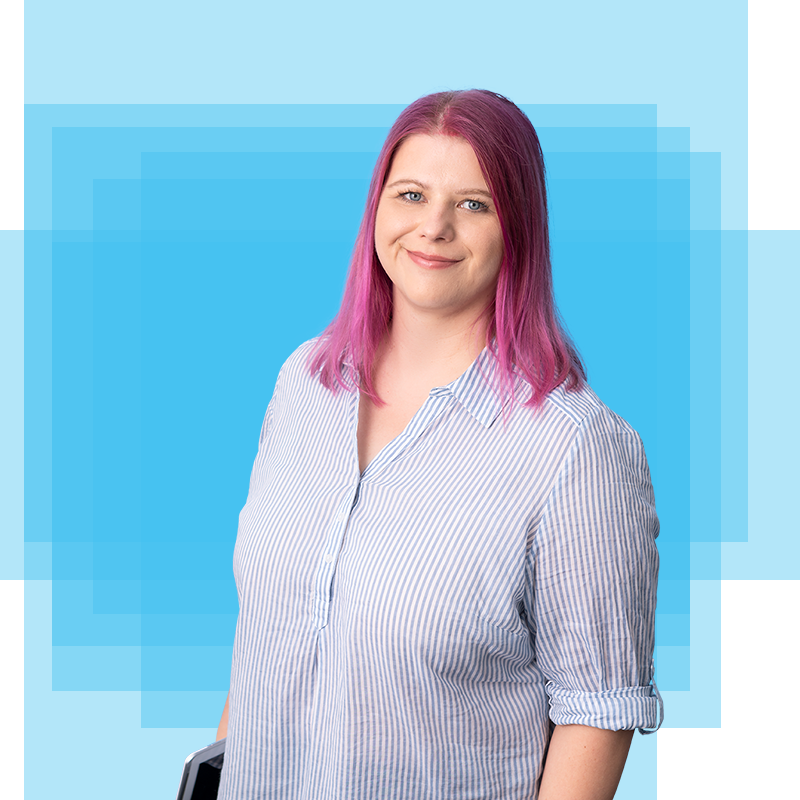 Daniela has been working in the areas of (online) editing, social media and online marketing since 2008. At exali, she is particularly concerned with the following topics: Risks through digital platforms and social media, cyber dangers for freelancers and IT risk coverage.
In addition to her work as an online editor at exali, she works as a freelance editor and therefore knows the challenges of self-employment from her own experience.