Corporate ( Re)Positioning
Business Repositioning: Advice from Entrepreneur Adam Butkiewicz
"The only constant in the universe is change," wrote the philosopher Heraclitus. This ancient quote is more true today than ever - especially if you run your own business. But recognising the signs of necessary change and keeping your finger on the pulse is a big challenge. In an interview with entrepreneur and FinTech founder Adam Butkiewicz, we discuss how to identify when your business needs to change direction and how to successfully reposition yourself.
Starting out as an Autodidact
exali: Why don't you start by giving us a brief outline of your career - how did you get started in self-employment?
Adam Butkiewicz:
I started my own business as an online marketer with a focus on finance when I was an economics student. This was in 2008, during the economic crisis, just before universities in Germany had introduced tuition fees. So money was tight and the student grant I received was just enough to pay the rent. Unfortunately, there was no financial support from my divorced parents. At the time, I was just looking for a way to earn some extra money. By chance, I came across an article about an American blogger who was earning five figures a month from Google ads. That piqued my interest.
I had already worked out the technical basics. As a fourteen-year-old schoolboy, I created my first websites during the summer holidays. Through my studies, access to the university library and my interest in finance, my focus was set. I just had to figure out how to get a website as high up as possible on Google. Many long nights in international forums and my own experiments with newly created websites followed. Over time, the number of visitors increased and so did the income - from a few cents at the beginning to several euros a day. When I realised that my approach was working and that I just needed to scale up, I applied for a trading licence.

Change Requires Experience
exali: After a while you changed your service. How did that happen?
Adam Butkiewicz:
I had to learn a lot to get to that point. In the end, it was a steady evolution based on the experience and learning I had gained before. In the beginning, I focused solely on content creation and search engine optimisation (SEO). I mainly maintained and improved my own websites. My sites on building interest development were particularly successful. So I decided to specialise further in this area and founded HypoChart in 2013. Since then I have been working with external experts on the content. My personal focus also shifted to web development, machine learning and technical aspects of SEO.
This technical shift opened up many new opportunities and I was able to expand my range of services accordingly. For example, I now develop bespoke and SEO-optimised web frameworks for online start-ups. This, in turn, has led to opportunities for me to become actively involved in attractive start-ups. Two of them help digital professionals set up businesses or find investors.
I have maintained my enthusiasm for good content throughout. Thanks to my experience in the fintech sector, I am currently co-authoring the book "The Investment Canvas". Together with two experienced colleagues from the innovation and banking sectors. The feedback so far has been very promising and we have already secured our first sponsors from the investment banking sector.
Multiple Reasons for Change
exali: What are typical indicators that you should reorient or develop your business as a self-employed person?
Adam Butkiewicz:
The indicators for a necessary reorientation or further development vary from person to person. One of the typical indicators is certainly declining or no turnover. The fixed costs of being self-employed in Germany are extremely high. Falling turnover can therefore quickly mean the financial end of your business and force you to take action.
Other possible indicators for necessary changes are
Overwork, which leads to negative stress and therefore health problems.
Dissatisfaction or the need for new challenges
Poor future prospects
Boredom or too much free time (overachieving phase)
This list is not exhaustive. But it is often such negative indicators or circumstances that force self-employed people to become active or more active. In fact, problems are often rooted in periods of success, when people tend to either overestimate themselves or slack off.
Tip:
In general, being self-employed involves certain risks that you should be aware of and take into account in order to keep your business on track. We have summarised these risks for you in the article 5 business risks freelancers should know.
The first success as a freelancer can be pure luck, if the timing and the idea are right. Or it can be the result of hard work and many setbacks. Often both are true. So don't think you're smarter than the millions of others out there. Just be aware that the competition never sleeps. There are plenty of others who will learn from your ideas and catch up - and faster than you think. Ideally, as an entrepreneur, you are in a constant process of development. This will inevitably lead to new opportunities, and hopefully a timely change of direction.
Systematic Approach
exali: What would you recommend to the self-employed to ensure that the further development of their business is successful? How should they go about it?
Adam Butkiewicz:
I prefer a structured approach. That's why the first thing self-employed people should do is their homework. This includes drawing up a business plan. First, assess your current situation, explore your options and define your long-term goals. Then develop a business plan that outlines your target market, competitive advantage, marketing strategies and key milestones.
Use a Business Plan as a foundation
This business plan serves as a solid foundation on which I base my day-to-day decisions. The roadmap for achieving my milestones, on the other hand, is more flexible, but remains within the framework of the previously defined strategy. In practice, of course, not everything goes according to plan. Many factors are out of our control. It is therefore important to regularly re-evaluate your situation, your goals and your strategy, and to adjust accordingly.
The Right Attitude for Success
Another thing I would add to the list of fundamentals is having the right entrepreneurial mindset. This includes a positive attitude, creativity, the ability to learn from mistakes and a willingness to evolve. It's true that success is wonderful, but failure is where growth and change happen. Even the best-laid plans sometimes go wrong. That is the nature of life.
Financial Cushion
That is why self-employed people should have sufficient financial reserves, or at least try to build them up. On the one hand to be able to cope with temporary crises, on the other hand to have room for change in the form of investments or further training. Newcomers in particular tend to increase their private spending as their income rises. After deducting duties, taxes and later tax advances, there is suddenly not much money left over. If your income falls, the situation can quickly become critical. That is why you should build up reserves first and then start building up your own assets at an early stage. Avoid unnecessary status symbols in the early years.
Networking: Cultivate the Right Contacts
Networking is the next big point that I myself neglected in the beginning. I don't mean collecting contacts on social media platforms, but actively exchanging ideas with colleagues and third parties, and learning from each other - because everyone has a different background, specialisations and skills. You should also rely on mentors. They have a wealth of experience and good contacts. Networking opens up new perspectives and, with the right creativity, new businesses or collaborations can emerge.
In this context, I am also a fan of positive karma. Do good, be kind, and you will benefit from it at some point. You should avoid people or colleagues who only make demands. Instead, seek out people who share, help and support each other. Make sure you have a good balance between taking and giving - win-win should always be the ultimate goal. This applies to both work and private life.
Tip:
Convincing customers and business partners of what you have to offer is sometimes not so easy. Our article about the 6 principles of persuasion for more success in business can help.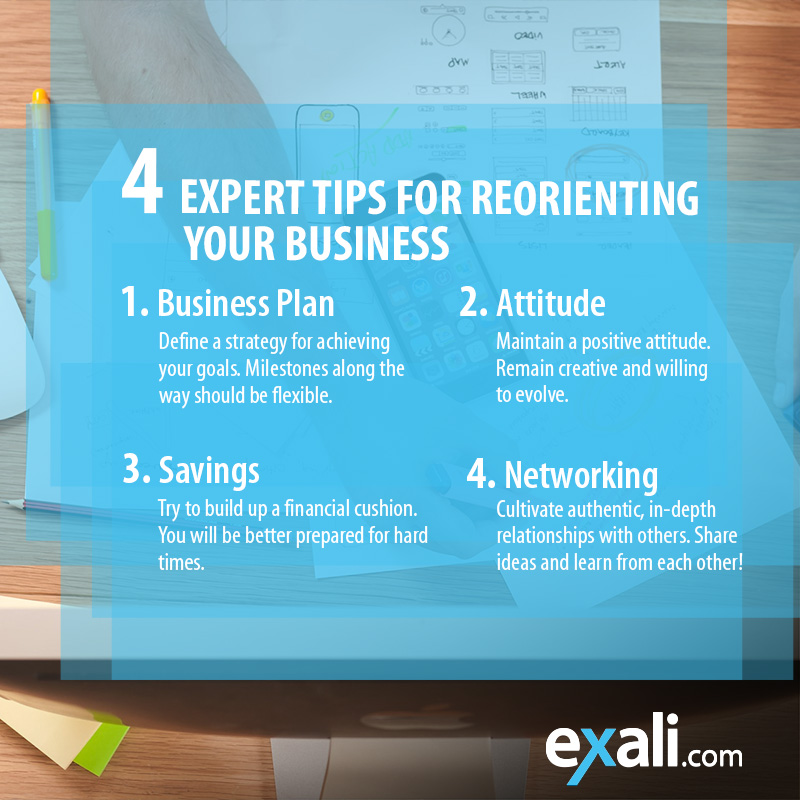 Effective planning is essential - even if you are reorienting or starting a new business.
Keeping an Eye on Trends
I think we've covered a lot of ground. So I'll leave you with my final recommendation. Keep an eye on market trends, industry changes and customer preferences. The best places to do this are industry or cross-industry conferences and trade shows. These also provide opportunities for that all-important networking. Ideally, you will be able to anticipate major changes or issues and prepare for them in good time.
Focus on your own strengths
exali: Are there differences in business reorientation depending on the industry?
Adam Butkiewicz:
Yes, there are differences. Entrepreneurs in sectors with high barriers to entry or monopolistic structures naturally feel less pressure to develop. So competitive pressure or cost pressure plays a role. So when you are reorienting yourself, you should think about how you can clearly differentiate yourself from the competition. But please, not by being "faster", "cheaper" or "better". This is the game that companies play best in the medium to long term. Instead, focus on your strengths, ideally unique ones. What problem do you understand best? What solution are you particularly good at delivering?
Forward-looking Financial Planning
exali: To what extent are freelancers, self-employed and entrepreneurs influenced by external factors such as inflation when planning their business?
Adam Butkiewicz:
Inflation is a good example of an external factor that has an economic impact on freelancers and entrepreneurs. Other possible external factors are changing social structures or technological progress. The impact on your business is similar. But let's stay with the example of the current high inflation in Germany. I see the following possible effects for self-employed and business founders:
Costs
The cost of raw materials, energy, equipment, rent and other operating costs will rise. This puts pressure on their profit margins. This leads to price increases or the search for cost-saving measures to maintain their profitability.
Consumer behaviour
As the cost of living increases, individuals prioritise their spending. This can affect demand for products or services, particularly those provided by freelancers and the self-employed. As a result, they need to adapt to changing consumer preferences and adjust their offerings accordingly.
Access to capital
In times of inflation, interest rates tend to rise to stop the depreciation of money. This limits your ability to expand your business or invest in new projects. This also applies to consumers who, for example, prefer to put off building a house because they cannot afford it for the time being.
Effects on individual sectors
Examples are interventions through subsidies, changes in government policy or regulations. The current heating debate is a good example.
To mitigate the impact of external factors, it is important for freelancers, the self-employed and entrepreneurs to engage in forward-looking financial planning. This includes regularly reviewing your pricing structures, managing your costs efficiently and diversifying your client base. Close relationships with business partners and long-term contracts are other important safeguards.
In general, the ability to reflect, adapt and evolve will always help. Nothing stays the same. That is why new opportunities will always arise. You have to be ready and able to recognise and seize them.
Thank you very much for this informative interview!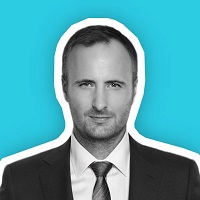 Our interviewee Adam Butkiewicz:
Adam G. Butkiewicz is an online entrepreneur, web developer and SEO expert. His passion is finance. In 2008 he started his own business in online marketing as an economics student and in 2013 he founded his first fintech company HypoChart, which has already processed over 50,000 financing requests. With his experience in implementing successful online projects, he helps companies plan and optimise competitive websites. He also advises start-ups and is currently co-authoring his first book "The Investment Canvas".
Author profile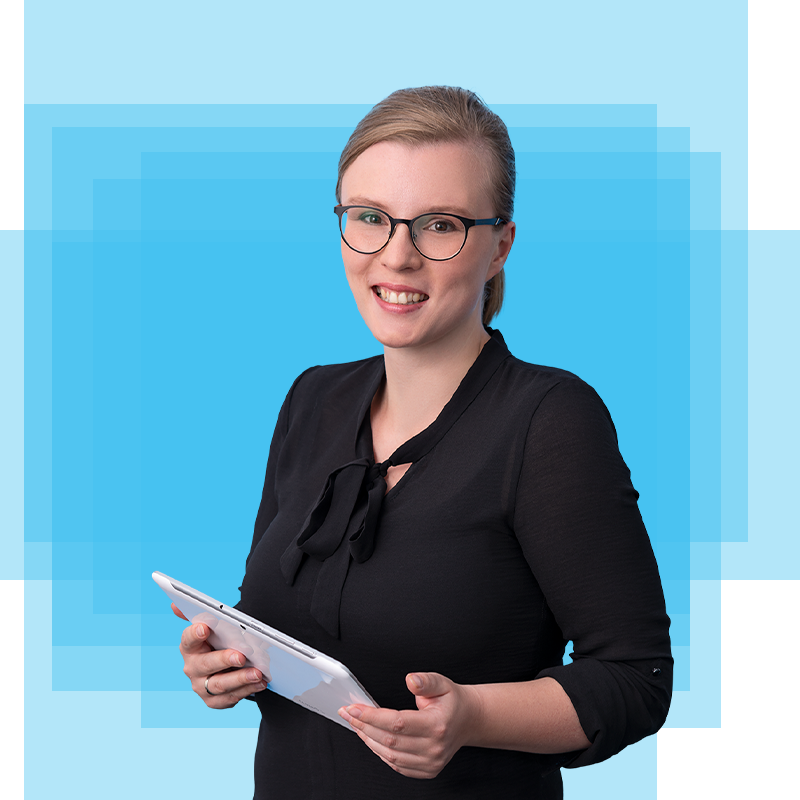 Vivien Gebhardt is an online editor at exali. She creates content on topics that are of interest to self-employed people, freelancers and entrepreneurs. Her specialties are risks in e-commerce, legal topics and claims that have happened to exali insured freelancers.
She has been a freelance copywriter herself since 2021 and therefore knows from experience what the target group is concerned about.