Cybercrime, infringements, data protection and more
5 Business Risks Freelancers Should Know About
No matter if you are just at the start of your self-employment or have been working as a freelancer for several years: There are risks to your business that affect all freelancers - regardless of their experience or the sector they work in. In this article we have summarised the top five business risks from our experience with claims that you should be aware of.
#1 Business Risk of Legal Infringement
An evaluation of our claims over the last few years has shown that legal infringement is actually the most common cause of damage, accounting for around 40 percent. In first place on the list of the most frequently reported legal infringements is copyright infringement, at 78 percent.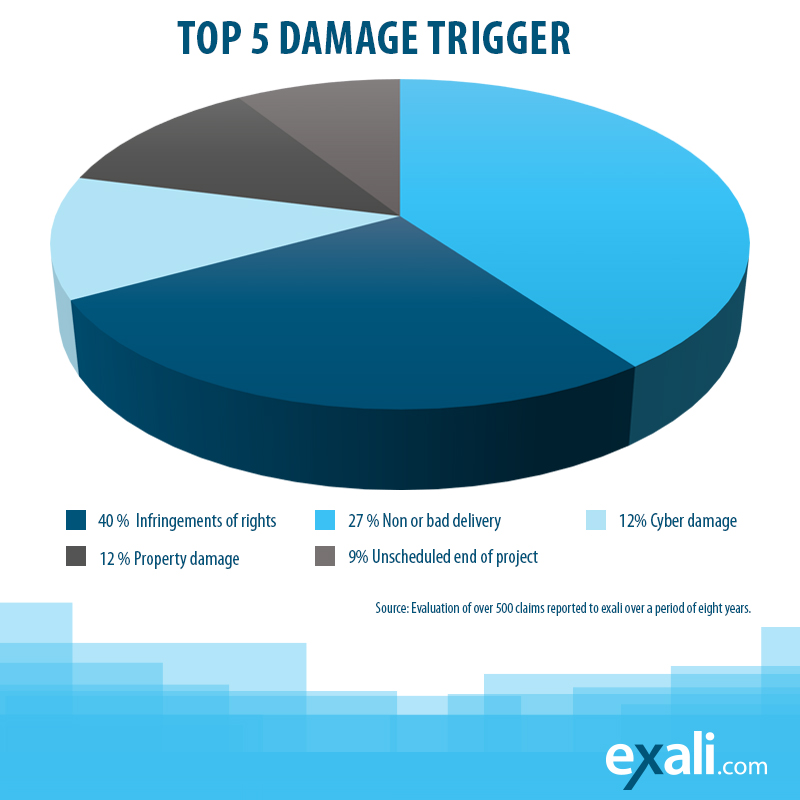 The 5 most frequent causes of damage events reported to exali are: Legal infringements, own mistakes or a premature end to a project, cybercrime and property damage.
Copyright as a Business Risk
In principle, almost every type of content is protected by copyright, this applies to image, video, text or sound content as well as to codes in programming. Some examples of copyright infringements include
Use of texts from other websites or platforms (for example, product descriptions or general terms and conditions).
Advertising texts, images or videos of products that have been adopted from the manufacturer and/or supplier.
Use of third-party images without permission or incorrect/incomplete naming of creators
Use of licensed music for your own videos (e.g. in social media channels).
To avoid copyright infringement, the following applies:
Never copy other people's texts (including legal texts such as data protection declarations) without permission.
If you use AI programmes such as ChatGPT to generate or buy texts, check them with plagiarism software before using them.
Only use databases with clearly regulated terms of use for images, videos or music.
Always pay attention to the small prints in user contracts, because the usage of content is often limited to non-commercial or certain types of use (e.g. use for website allowed, but not social media or video).
If you sell other people's products (via your own online shop or an online marketplace), always obtain the rights of use for advertising texts and product descriptions from the manufacturing companies.
Further Legal Infringements
In addition to copyright, there are other rights that you can infringe. The most common are:
Competition Law
Competition law covers a whole range of obligations and rules, which is why it is often difficult to keep track of them all. Especially in e-commerce, warnings are widespread - not only by competitors, but also by warning associations and consumer protection associations as well as lawyers who have discovered warnings as a business model for themselves. Frequent violations of competition law are, for instance
Errors in the imprint
Misleading advertising
Incorrect advertising labelling - especially affects content creators and influencers who advertise products via social media.
Trademark Law
As a general rule, trademark infringement can only be committed in the course of trade. A trade mark infringement is always committed when third parties disregard the rights of the brand owner - for example, by using a name or design elements that are too similar. Further infringements of trademark law can also be advertising with third-party logos or quality seals on their own website as well as the deliberate or negligent labelling of plagiarised products with third-party trademarks.
The fact that freelancers can also commit trademark infringements is shown by the example of an IT service provider insured by exali: he was supposed to create a website for a sports club and also created a name and a logo for it - but without having carried out a trademark search beforehand. The consequence: A fitness studio, which had protected the name used as a word mark, issued a warning to the IT service provider. You can read how this real exali claim turned out in the following article: IT service provider forgets to do his own trademark research.
Personal Rights
You may violate an individual's right of personality, for example, if you use a self-created image on your website in which the person is clearly recognisable. For instance, a photographer can infringe on a person's right of personality if they include pictures of a wedding on their website or if people walk through the picture during a film shoot for a promotional video. Therefore, never use images or video material in which people are recognisable without obtaining their written consent first.
#2 Business Risk Professional Errors
The second greatest risk to your business can be yourself. This refers to the possibility of you making a mistake in the course of your professional duties that could have costly consequences, or in the worst case, even threaten your very existence. These professional errors may also include missed deadlines that lead to clients withdrawing from a contract. Some examples of such work-related mistakes that we have already experienced in practice are:
Skyrocketing Advertising Budget
A freelancer in the field of online marketing was supposed to create an advertisement on Facebook for a company. Unfortunately, the decimal point "slipped" and the budget of 15,000 euros suddenly became 15 million euros. By the time the mistake was noticed, 250,000 euros had already been lost - which the company naturally wanted back from the freelancer. You can read how the case turned out here: Comma error causes Facebook advertising costs to explode.
Number mix-up
An IT service provider who was supposed to update the software for sending emails for a company also had problems with numbers. Unfortunately, he made a mistake when entering the date, so that instead of the planned 50 documents, more than 17,000 were sent by e-mail. We have summarised the entire case for you in this article: IT service provider causes damage amountin to 14,000 euros.
Previously Convicted CFO
A company had to fill the position of Chief Financial Officer and commissioned a headhunter to search for suitable candidates. He quickly found what he was looking for and the position was filled, but shortly afterwards irregularities occurred in the company's books. It turned out that the new CFO had tampered with the accounts and not for the first time - in fact, he already had a criminal record for a similar offence - something the headhunter could have discovered by requesting a police clearance certificate. Read more about this case here: Headhunter places CFO with criminal record.
All three cases show: A minor carelessness can lead to expensive consequences. And: The risk of such a work-related mistake always exists for all freelancers and entrepreneurs. The good news is that you can protect yourself against it.
Protection by Professional Indemnity Insurance
To ensure that a mistake does not cost you your professional existence, it is advisable to take out Professional Indemnity Insurance. This protects your company if you make a mistake in the course of your professional activities that causes damage to your clients.
In addition to statutory liability, Professional Indemnity Insurance through exali also covers contractual liability - i.e. if you do not or insufficiently fulfil a contractually agreed performance obligation (e.g. service level).
#3 Business Risk Cybercrime
Cybercrime is on the rise - a sad trend that continues. Recent studies show that cybercrime is one of the biggest threats to any business. The main threat comes from ransomware, an attack in which cybercriminals gain access to your IT systems and/or programmes, encrypt them and demand a ransom for their release.
Cyber attacks using social engineering are also widespread - the so-called CEO fraud is used frequently in the corporate sector. In this case, cyber criminals contact employees - for example by email - and pretend to be the CEO or supervisor. If the employees respond to the contact, the supposed managers demand the transfer of money or voucher codes. This can't happen to you? Unfortunately, the methods of cybercriminals have become so sophisticated that even AI programmes with voice imitations are used to deceive the victims. In the article "The fake president: when scammers pretend to be the CEO" we have summarised some real damage events from the exali archives.
Cybersecurity for Freelancers
Cybersecurity is not only important for companies, but also for freelancers. In the worst case, a cyber attack could also affect your clients. Therefore, you should take the following protective measures:
Regular Backups
One of the most important protective measures, especially in the case of a ransomware attack, is the offline backup of existing data. Therefore, create regular backups of your work and store them in several places (external data carrier, cloud).
Three-second Rule for Emails
As a general rule, be careful with emails and do not open attachments or click on links lightly. Instead, apply the three-second rule, which says: Especially with unknown senders, first check the e-mail address and the text for spelling mistakes. If you are unsure, contact the sender in another way (e.g. by telephone) and ask whether the email really comes from them. Also, never give out account information, access data or passwords by phone, SMS or email.
Update your Systems Regularly
Whether it's the operating system, anti-virus software, apps on your smartphone or other programmes: Make sure you always use the latest version of your software.
Multi-factor Authentication
Always use multi-factor authentication, or at least two-factor authentication, for external tools, software or platforms. This also applies to social media.
Beware of Public Networks
If you work on the road (for example on the train, at the airport or in a café) and therefore utilise public networks, always use a VPN so that your data is never unencrypted on the internet.
Cyber Protection with Professional Indemnity Insurance
Probably the biggest problem of cybercrime is that there is no 100 percent protection. Therefore, it makes sense to take precautions in case of an emergency. This is why exali offers First-Party Cyber and Data Risks Insurance (FPC), an add-on that can be included in your Professional Indemnity Insurance through exali and which protects you from the consequences of cybercrime. The advantages of FPC are
Hacker damage to your own IT systems is covered
Protection against ransomware attacks
Assumption of costs/extra costs to avoid or shorten a business interruption
Protection in the event of damage to trust (deliberate damage to own IT by employees)
The add-on also covers the costs for PR and crisis management, as well as specialised lawyers and computer forensics specialists.
#4 Business Risk Property Damage
Those who work predominantly online initially find it difficult to imagine how property damage could happen. However, practice shows that the risk of such damage is a cross-sectoral risk
What Is Property Damage in General?
In terms of liability insurance, property damage is physical damage in which substances belonging to third parties - for example, objects, equipment or rooms - are damaged, destroyed or lost. A small selection of real exali damage events involving damage to property belonging to third parties shows that this can happen much more quickly than expected:
Drone Crash during Video Shoot
An advertising agency used a drone during the filming of an advertising video - but it crashed and "landed" on the exhibition car of a car dealer. You can read the full case here: Drone crashes over car dealership.
Extinguishing System in Server Room Triggered
A company wanted to clean a rented server room itself, but forgot to deactivate the extinguishing system. The system interpreted the dust raised during the cleaning as a fire and promptly triggered the alarm. The consequence: 80,000 euros for filling the extinguishing system with inert gas plus 250 euros for the intervention of the local fire brigade, which also appeared on site. Read more about it in this article: Unintentional emergency in server room.
Customer Key Lost
An IT service provider had been contracted by a company to do maintenance on its IT systems - but this was to take place outside the company's business hours. For this reason, the IT service provider was given the key to the office building. Unfortunately, he lost the key during a pub crawl. As a result, the company had to have the entire key system replaced at a cost of around 1,400 euros. We have summarised the entire case for you here: Lost customer key.
General Liability Insurance Coverage
In order to cover the risk of property damage, every Professional Indemnity Insurance through exali has an integrated General Liability Insurance for office and business premises in addition to Financial Loss Insurance, which covers not only property damage but also personal injury. The case of an IT service provider who made a mistake when programming the stage technology for an opera house and as a result an opera singer fell five metres into the depths shows that this can also happen quickly.
#5 Business Risk Data Protection
Since the introduction of the General Data Protection Regulation (GDPR) in May 2018, many rules regarding data protection have become stricter or even changed completely. A good example of this is the Privacy Shield, which was supposed to regulate data transfer with the USA, which was declared invalid by the European Court of Justice in 2020 - to date, there is no new binding legal regulation here. The situation is similar with regard to cookies: Whereas in 2018 it was sufficient to merely indicate the use of cookies, the use of a cookie consent banner is mandatory, which allows website visitors not only to consent to the use of cookies, but also to reject them.
Tip:
Everything you need to know about current regulations and recommendations on the subject of the GDPR can also be found in our GDPR fact check.
These two examples show well: the topic of data protection is complicated - and it affects everyone - regardless of whether you "only" operate a website or also use social media and other platforms to promote your business or that of your customers.
Well Prepared with Professional Indemnity Insurance through exali
No matter whether you have received a written warning because of a legal infringement or a data protection violation or you have made a mistake: with Professional Indemnity Insurance through exali.com your business is always protected. Part our police is also the integrated General Liability Insurance, which covers you in the event of damage to property or personal injury. In the case of a claim, the insurer always checks at its own expense whether it is justified - unjustified claims are defended on your behalf (the insurer bears the costs for this within the scope of passive legal protection), justified claims are settled by the insurer.
If your clients suffer damage as a result of a cyberattack on your business - for example, if malware on your server causes damage to your clients' IT systems - this is also covered by Professional Indemnity Insurance. You can cover cyber damage to your own IT systems, programmes or data via the add-on First-Party Cyber and Data Risks Insurance (FPC).
Do you have any questions about our Professional Indemnity Insurance or the risks covered? Then feel free to contact our customer service team on +49 (0) 821 80 99 46-0 (available by phone from Monday to Friday from 9:00 a.m. to 6:00 p.m.) or use our contact form.
Author profile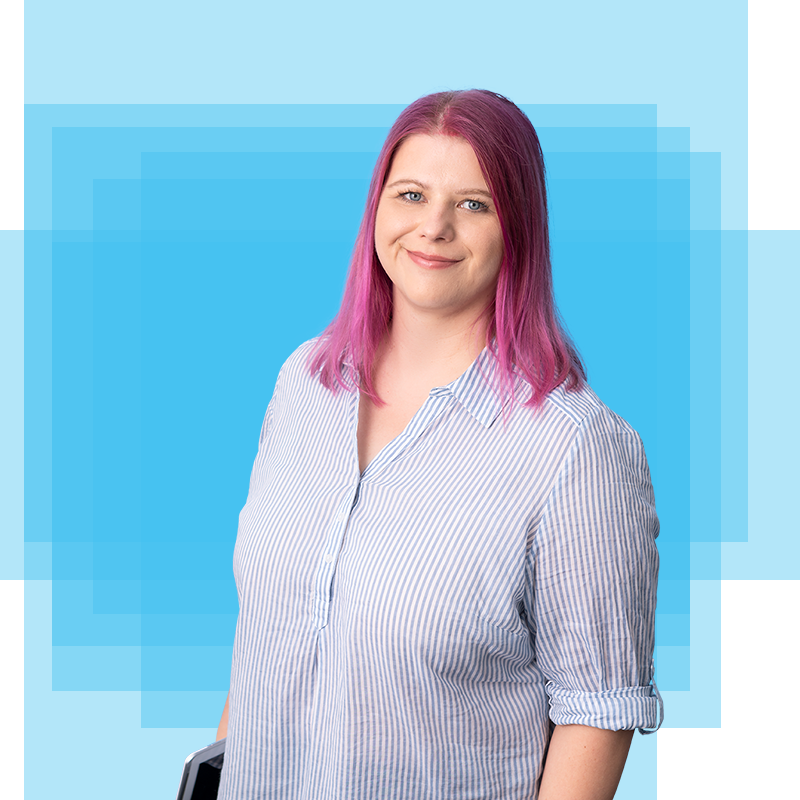 Daniela has been working in the areas of (online) editing, social media and online marketing since 2008. At exali, she is particularly concerned with the following topics: Risks through digital platforms and social media, cyber dangers for freelancers and IT risk coverage.
In addition to her work as an online editor at exali, she works as a freelance editor and therefore knows the challenges of self-employment from her own experience.