Cover Cyber Risks
Cyber Risks: This Threatens You and this is How You Can Protect Yourself
Hacker attacks, malware, blackmail... That only happens to other people?! That assumption could cost you dearly! Many companies aren't adequately protected against cyber crime yet. The damage caused by cyber attacks has been increasing for years. In this article, we will tell you where the greatest risks lurk and how you can protect yourself.
Cyber Risks – the Biggest Threat to Companies
According to the Allianz Risk Barometer, experts see cyber attacks as the greatest source of danger for companies. For the study, AGCS, Allianz's industrial insurance company, evaluated the responses of 2.650 risk management experts from 89 different countries. Using these responses, the report identifies the most relevant business risks for the next 12 months (and beyond).
The possibility of a cyber attack (44 percent) is seen as the greatest threat worldwide by the respondents – ahead of business interruptions (42 percent) and natural disasters (25 percent).
In Germany, 2021 was still dominated by business interruptions: The corona pandemic caused supply chain bottlenecks on an unprecedented scale, while hacker attacks paralysed production chains. The situation will only improve slightly this year. That is why resilience is now developing into a competitive advantage: Protection against the causes of business interruptions, for example due to a cyber attack, will positively differentiate companies from their competitors in the future.
In 2022, 55 percent of those surveyed in Germany see business interruptions as the greatest risk, with cyber incidents coming in second at 50 percent.
Ransomware Attacks as the Greatest Cyber Risk
The fact that cyber incidents are the number one risk in a global comparison is mainly due to the sharp increase in ransomware attacks. 57 percent of the participants in the survey rate this type of attack as a blatant cyber threat for 2022. Double blackmail tactics, in which hackers not only encrypt but also steal data, make these attacks particularly difficult to defend against.
Criminals have also long since discovered software vulnerabilities. A malicious gap in the code in some versions of Windows has already served as a gateway to various networks for hackers. We tell you how you can protect yourself against this risk in the article How you Can Protect your Business against Critical Vulnerabilities in Operating Systems or Software.
Business Interruptions as a Result of a Cyber Attack
In recent months, many companies have been confronted with the full extent of their IT vulnerabilities. In a number of cases, the security precautions couldn't keep up with increasing digitisation, and globally networked supply chains created additional dependencies. So it is not surprising that those surveyed are particularly concerned about business interruptions as a result of a cyber attack.
Minimise Cyber Risks
As you can see: There is a multitude of cyber risks that will probably reach worrying proportions in the next few years. But you still should not surrender to your fate and instead take various technical and organisational measures to minimise the cyber risks. Here's how you can do it:
Outsource the hardware and software required for the operation of your company to a separate data centre.
For your business, only choose products that are suitable for companies and don't settle for temporary solutions. The money you might save in the beginning will be lost in double and triple in the event of a cyber incident. New software applications should only be used after extensive testing.
Keep redundant hardware in order to be able to better compensate for failures or, ideally, to be able to completely avoid them.
Regularly back up your data to external media that are not linked to the rest of your infrastructure. This allows you not only to protect your data against unauthorised access, but also against harmful environmental influences such as fire and water.
Equip your business with firewalls and virus scanners to block unauthorised data traffic if necessary. Always keep all your tools up to date and download updates regularly.
Train your employees! Many cyber incidents don't necessarily occur as a result of external access by criminals. The cause often lies in the (unconscious) errant behaviour of personnel.
By the way: Cyber incidents are no longer limited to large corporations. You can get even more tips on how to protect your business here: Cyber Security for SMEs: How to Achieve Effective Safety Standards.
Cover Cyber Risks
The amount of damage is in the trillions worldwide, around 47.000 malware variants are in circulation every day, and German systems alone suffer 20.000 infections from bots every day. With these rising threats, the demand for cyber insurance is increasing, albeit slowly.
Smaller companies in particular mistakenly think that they are not a worthwhile target for cyber criminals. But numerous studies in recent years have shown that small and medium-sized companies in particular are increasingly becoming the target of hackers. And they have a much harder time coping with the financial consequences of business interruptions, data protection fines and the like than large corporations. Many are still reluctant to make this investment – even though the costs are often much higher after a cyber attack or data breach.
Taking Out Cyber Insurance: This Is What You Need to Pay Attention to:
If you're looking to get cyber insurance for your business, there are a few key points to look out for:
The insurer should cover the cost of cleaning up and restoring your systems after a cyber attack. This also includes the costs of using third-party IT systems if you cannot maintain your operations in any other way.
Your company's image may also suffer as a result of a cyber attack, for example if customer data falls into the wrong hands. So a good cyber insurance should also pay the costs incurred for the appropriate PR.
As mentioned at the beginning, blackmail attempts as part of hacking attacks have increased significantly. So payment of the ransom by the insurer (if all else fails) is a must.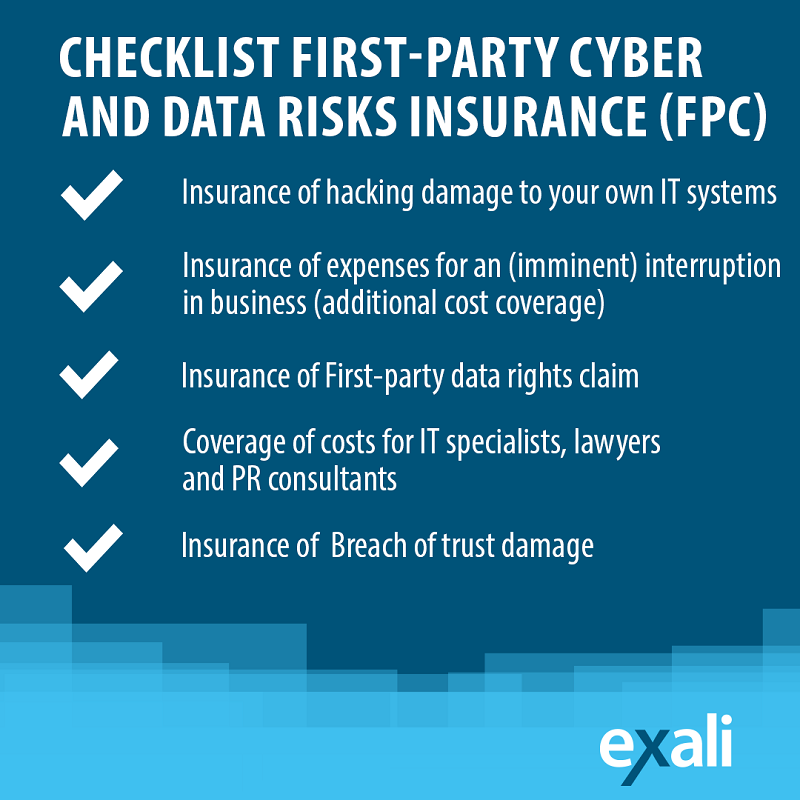 Cyber Insurance: Insurance Solutions from exali
No matter which Professional Indemnity Insurance you take out with exali: Any cyber damage caused to someone else by your mistake is automatically covered as well.
Insure the (Additional) Costs of a Cyber Attack Easily and Effectively
You can easily and inexpensively expand your Professional Indemnity Insurance from exali with the "First-Party Cyber and Data Risks Insurance (FPC)" add-on.
It protects you as a freelancer or self-employed person against all common types of cyber crime – from ransomware to DDoS attacks to CEO fraud – including coverage of ransom payments in the event of cyber blackmail. This also includes the costs incurred to avoid or shorten an interruption to your operations. In addition, the insurer pays the necessary costs for PR, crisis management, lawyers and necessary computer forensics. By the way: First-Party Cyber and Data Risks Insurance is also at your side even in the event of damage caused by your own employees.
Do you have questions about protecting your business against cyber damage? Then give us a call. Our insurance experts understand the risks and will be happy to advise you on the best solution for your business.
Author profile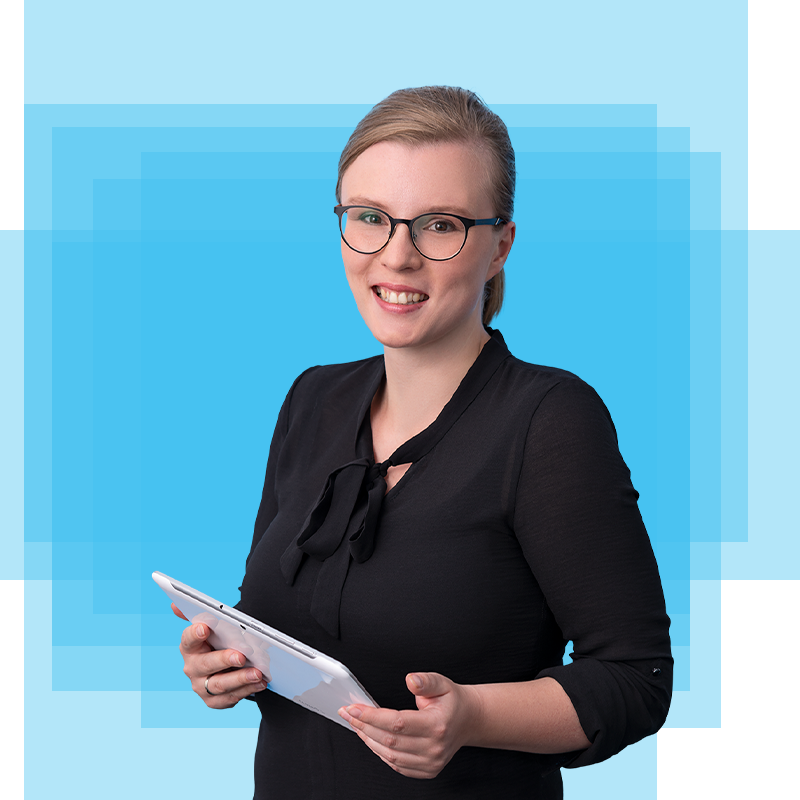 Vivien Gebhardt is an online editor at exali. She creates content on topics that are of interest to self-employed people, freelancers and entrepreneurs. Her specialties are risks in e-commerce, legal topics and claims that have happened to exali insured freelancers.
She has been a freelance copywriter herself since 2021 and therefore knows from experience what the target group is concerned about.