Expert Interview with the Founders of K2Match
Founding Abroad: Tips for the Self-employed and Startups
The start of self-employment is associated with a number of challenges - and the matter of location is also becoming increasingly important. Alexandros Dohn and Badr Moudden founded the company K2Match in 2021, which specialises in bringing founders and experts (e.g. investors) together. In this interview, the two talk to us about the challenges of setting up a business and what you should bear in mind when founding a company abroad.
Founding a Company: What you Need to Keep in Mind
exali: What do you think are the biggest challenges faced by founders?
Alexandros Dohn:
The challenges depend heavily on the startup's stage of development - monetisation of the idea is generally the most difficult part. This means the development of an idea for a product and/or a service that is accepted by the market and can be profitably sold and further developed by the startup.
The journey of a start-up begins with an idea and goes through different stages that bring their own challenges to reach the next level. In our experience, these include:
Developing a value proposition / unique selling proposition (added value offer / unique selling proposition)
Conducting a market analysis
Creating a prototype and MVP (minimum viable product)
Developing a successful business model
Elaborating a detailed marketing, sales and financial plan
Acquiring the first customers as proof of concept (POC)
Developing a successful pitch deck for investors (Seed Invest)
Scaling operations, processes and business
Successfully completing the next investment rounds (until exit)
Business challenge: Outside support
During these phases, startups can also receive outside support to overcome individual challenges. Key business issues here include the speed...
1. ... to manage market entry faster than the competition and not to be copied, as well
as
2. ... as to maintain liquidity at all times and to establish a scalable business model
with solvent customers and increasing sales while keeping costs low.
Liquidity challenge
In addition to business challenges, the most important issues for startups around the topic of investment are the following:
Achieving enough "traction" (generation of sales or sales successes) to overcome the possible dry spell of a liquidity "runway" until the next investment. The time required for the acquisition of capital is often underestimated, for example because of negotiations, due diligence and ultimately the challenge of finding suitable investors.
Founding Abroad: Challenges and Opportunities
exali: How important is the location of my company and are there reasons for setting up abroad?
Alexandros Dohn:
That depends heavily on the type of business. For example, anyone who develops a product should consider various parameters when founding their business. This includes, for example: Production locations, supply chains and purchasing. Manufacturing costs, routes to customers, sales and other factors are all taken into account. The decision should therefore be analysed and chosen carefully.
Nowadays, digital business models can be designed to be more location-independent. The willingness to participate in online meetings has increased significantly in the last three years. Especially for start-ups in the launch and growth phase, there can be many advantages, including liquidity benefits through low taxation, as well as faster market entry through more efficient bureaucratic processes depending on the country and industry.
We recommend you take a very close look at where you start your business, including abroad if necessary.
Founding Abroad: What you Need to Keep in Mind
exali: Before founding abroad, you need good preparation: Are there points I should always be aware of, regardless of the country I am founding in (e.g. cultural particularities, laws etc.)?
Alexandros Dohn:
There are some private as well as business-related issues:
Private issues include:
Quality of life
Health insurance
Credit cards
Cost of living
De-registration in your home country
Registration abroad
Possible exit tax
Business issues include:
Language and degree of internationalisation for company-related topics
Corporate liability
Time, process and costs of incorporation
Business bank account
Depending on the business model and industry, we also always recommend consulting:
Tax consultants, among other things for the requirements / conditions and calculation of possible tax advantages
A lawyer: For business-related legal topics, such as local regulations and laws
In general, we also always recommend exchanging experiences with people at the location.
Introducing Cyprus as a Company Location
exali: You founded K2Match in Cyprus – what were the decisive factors for you here?
Alexandros Dohn:
We spent a lot of time in Düsseldorf and Berlin and for us, the sun, climate, landscape, food and lifestyle, as well as work-life balance were the decisive factors for founding abroad. We were actually quite surprised by Cyprus, because the island is bigger than it seems and offers, say, the possibility of skiing in the mountains in winter and then even swimming or golfing in the sea on the same day. There is plenty of hiking and cultural things to see here, along with great beaches and plenty of sunshine.
We also liked the fact that Cyprus has developed strongly and that there is now a rapidly growing startup scene and lots of conferences, such as the "reflect" festival.
Badr Moudden:
Another personal advantage that was decisive for us is the non-domicile programme in Cyprus. It allows foreigners Cypriot tax residency after only 60 days residency per year, plus other benefits such as no tax on dividends or capital gains (maximum 17 years) - other countries offering comparable programs, such as Malta, have a 181-day Regulation. This means, in theory, internationally active entrepreneurs or the self-employed only have to spend two months on the Mediterranean Sea to benefit from Cyprus' tax exemption on capital gains.
Alexandros Dohn:
Cyprus is also well located geographically – in the middle of Europe and the Middle East. There are two international airports in Paphos and Larnaca. The flight time to Berlin and Dubai is about three hours and the flight prices are very cheap.
What we also really like about Cyprus is that English business is strongly represented and anchored and a German community is becoming steadily more established.
Badr Moudden:
Aside from the non-domicile programme, which is aimed at private individuals, there are also excellent tax advantages for companies. Corporate taxation is only 12.5 percent and capital gains are usually even tax-free for companies. In our opinion, the combination of the non-domicile programme and a Cypriot corporation results in unbeatable financial advantages for founders.
Tip:
Anyone interested in the subject can take a look at the calculator from tools.cypruslimited.com, which a German emigrant developed.
exali: What would you advise people who are considering founding their startup in another European country?
Alexandros Dohn:
If you have a destination country in mind, you should travel there to get an impression of the country. In general, we would recommend clarifying personal preferences first – i.e. what is actually important to you, such as climate, work-life balance, language and so on. The next step is to imagine living there.
In the beginning it took a bit of effort for us, but in the end everything went much faster and easier than expected. We would also advise you to prepare yourself well with regard to the location of your company. As explained in relation to the questions of founding a company abroad, we recommend taking a closer look at the essential factors and seeking transparent advice.
International Founding: Country-specific Differences
exali: Are there country-specific differences when it comes to finding investors or customers?
There are more significant differences between the EU and the USA. Much seems to be the same within the EU, but if you take a closer look, there are also major differences here, which can have many advantages or disadvantages.
Venture capital: Country-specific differences
One big difference for instance is access to capital. In some countries in the EU it is actually easier to get money, even with higher investment volumes, than in others. Depending on the country, there are also venture capitalists with different specialisations who focus on specific sectors and niches.
Even when it comes to business angels, there are different mindsets within the EU. The graphic below illustrates quite clearly what venture capital investments are all about. Germany is in third place here with 11 percent of the total investment volume - the first two places go to England and France, to which larger sums have flowed.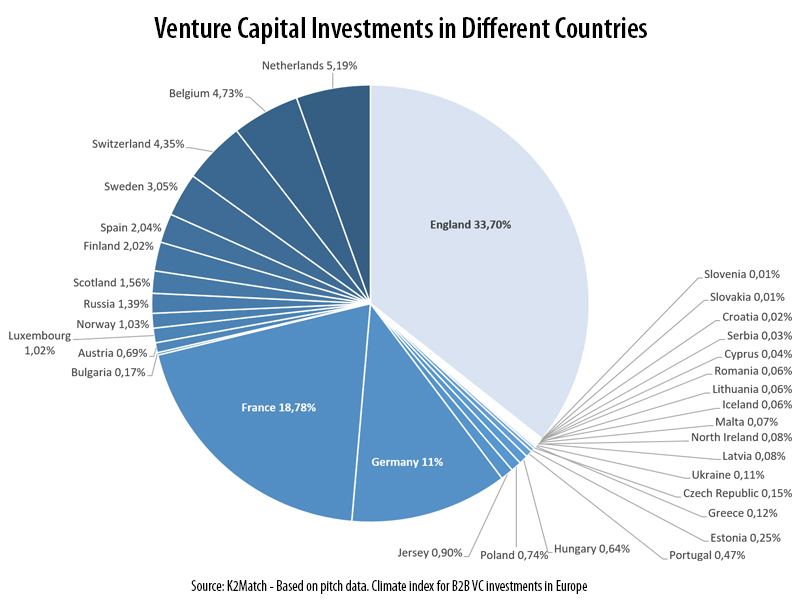 Evaluation of venture capital investments in different countries by K2Match.
We always advise getting a clear picture of the situation and identifying and selecting suitable investors.
Founding Internationally with K2Match
exali: K2Match offers an international ecosystem that brings together startups, SMEs, companies, experts and investors. Which factors are decisive for a "match"?
Alexandros Dohn:
Exactly, we are an ecosystem of curated startups, SMEs, VCs & PEs, companies, experts, business communities and solution partners. It is important for us to organise best-in-class matching with the individual participants. The quality of the members in this ecosystem is crucial to provide the best experience for each individual. So we have also developed new application and selection processes.
For example, our startups have the opportunity to apply for places in international Investor Loungeswhich take place live. In addition, startups get online access to our growing network of investors Startups apply to our Deal Room as part of this.
The process is simple: Questions critical to success are asked for investors and the "pitch deck" is uploaded. The data is then visible to all K2Match investors. This saves startups a lot of time when acquiring investors - because all the relevant information is in one place, and several investors can find out about the start-ups online and contact them.
Generally, we match the needs of the startup with appropriate stakeholders from our ecosystem. We have made it our mission to develop B2B and B2B2C startups into hidden champions and market leaders.
exali: From your point of view, what are the biggest mistakes that founders – primarily startups, but also SMEs – make most often?
Alexandros Dohn:
As described above, there are many challenges. What we often notice in conversations is that there are many companies that do not have a solid sales and marketing strategy.
Tips for Founders
exali: Do you have a tip that you think all founders should know?
Alexandros Dohn:
No matter how smart the founders are, most of them are not good at everything. So you should be clear about where your strengths lie – and where your deficits lie. We recommend getting external support to compensate for the deficits, for example in the form of additional employees, experts and an advisory board.
Furthermore, we advise you to write a clear, comprehensible business plan for your own planning as well as for the search for outside capital, which will strike the "heart" and "wallet" of potential financiers at the same time.

Thank you for this exciting and informative interview!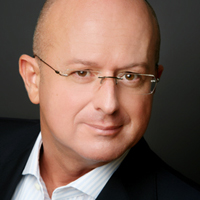 Our interview partner: Badr Moudden
Badr has advised top European companies and startups and has a proven track record of scaling and successfully guiding companies through seed and Series A funding rounds. Badr is a recognised coach and startup mentor, former President of the Manager Lounge Düsseldorf and an international networker.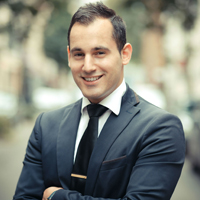 Our interview partner: Alexandros Dohn
Alexandros has unique expertise in building rapid, engaging business relationships that drive next-level collaboration and exponential business growth. His ventures include platforms for industry professionals able to help with any issue related to scaling startups and SMEs. Alexandros is an expert in digital B2B and B2C lead generation and the digitisation of acquisition processes. He advises companies on creating successful structures and processes.
About K2Match:
The name "K2Match" comes from combining two terms: "K2", the second highest mountain on earth, which is even more difficult to climb than Mount Everest, - and "Match", for bringing together B2B and B2B2C startups & scalers with curated top experts, investors, corporate partners and solution partner teams to climb the symbolic K2 (company founding, investments, etc.). The experts are carefully selected to combine their unique expertise with the right business ethics.
You can find out more about K2Match's services at: www.k2match.com
Author profile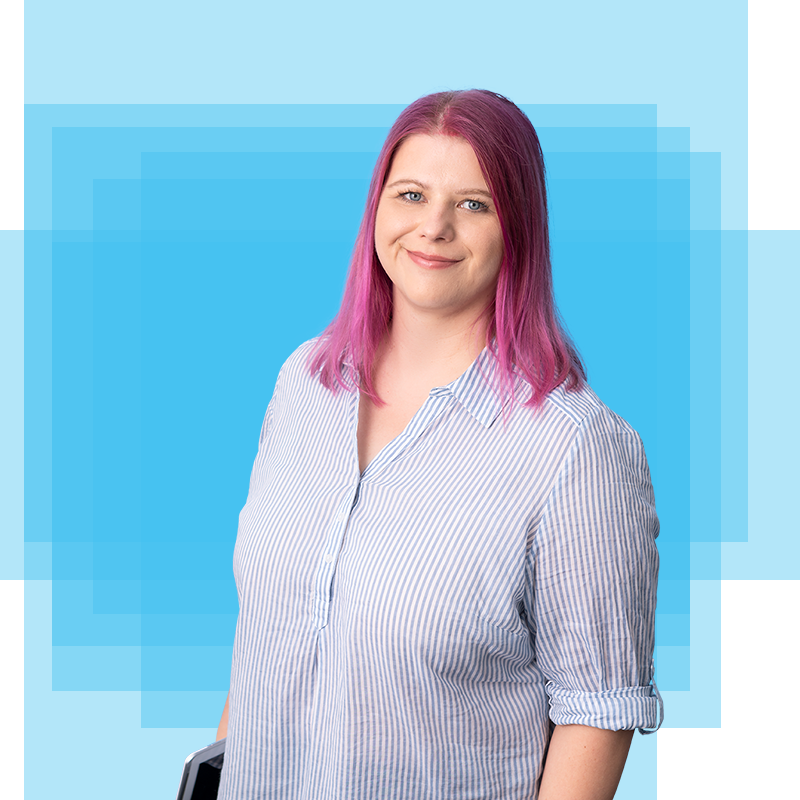 Daniela has been working in the areas of (online) editing, social media and online marketing since 2008. At exali, she is particularly concerned with the following topics: Risks through digital platforms and social media, cyber dangers for freelancers and IT risk coverage.
In addition to her work as an online editor at exali, she works as a freelance editor and therefore knows the challenges of self-employment from her own experience.