Tips for Keeping Newsletter Subscribers
Prevent Unsubscribing: How to Keep Your Subscribers
The joy of new newsletter registrations often gives way to disillusionment – when subscribers unsubscribe shortly after registering. We tell you the five most common reasons people unsubscribe from newsletters, what you can do to prevent this, what is legally permissible, and how you can protect yourself if you make a mistake with newsletter marketing.
The Five most Common Reasons for Unsubscribing from Newsletters
There are a variety of reasons subscribers unsubscribe, but these are the top five:
1 Newsletter Is Published too Frequently
Unfortunately, there's no general formula for how often you should send a newsletter, because that depends heavily on your business and content – as well as on what users expect. Some subscribers want to hear from you several times a week, while others think one newsletter a month is almost too much. One way of avoiding this dilemma is, for example, to let users select the frequency with which they want to receive newsletters when they register.
2 Uninteresting or Unattractive Content
There are various reasons subscribers may find your newsletter content uninteresting. Here are the most common ones:
The content is just not interesting.
The content is either too specific and your target audience is too broad, or too general for an audience made up of specific target groups.
You recycle content too often. Nobody wants to read the same content over and over again (especially with little or no changes).
The first first reason is the only one you can't do much about given your existing subscribers. But there are several strategies for the other two reasons:
Interest Selection
Offer subscribers the opportunity to choose topics that are of particular interest to them – preferably when they register for the newsletter. This is especially useful if your range consists of different product groups.
Survey
You can also offer your subscribers the opportunity to give feedback on the newsletter, for example as part of a survey. It is best to combine this survey with a bonus, for example a discount or a free item, to motivate participation.
Change the Frequency
If you recycle your content too often, you should reduce the frequency of the newsletter. For example, instead of weekly only every two weeks or even monthly – but with new content every time.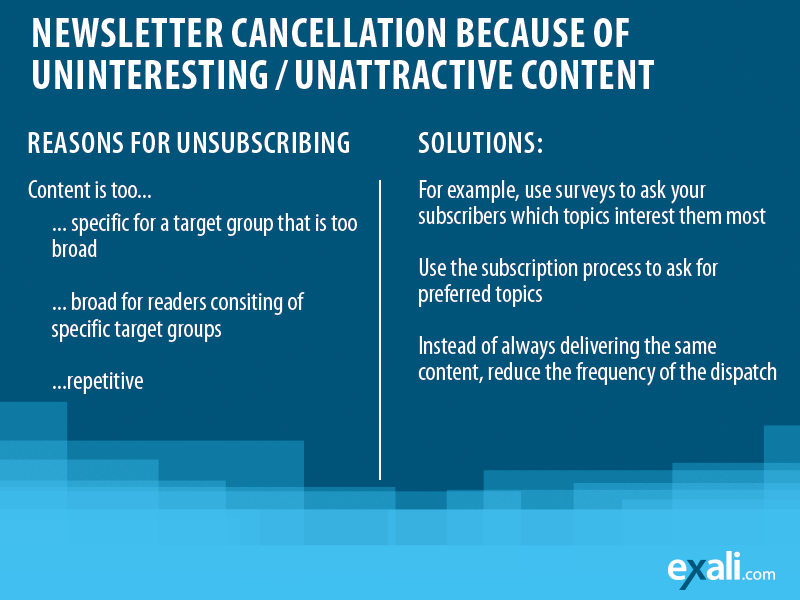 If your subscribers choose "I am not interested" as the reason, it can be for a variety of reasons.
3 Your Newsletter Ends Up in the Spam Folder
A common problem when sending newsletters is that your emails do not arrive in your subscribers' inboxes, but end up in the spam folder. This could be for a variety of reasons, such as:
The subject is in uppercase
You use so-called "spam words" in the subject line
Something is wrong with the links in your newsletter
The email file size is too large
You are using a freemail address as the sender
The quality of your recipient list is not high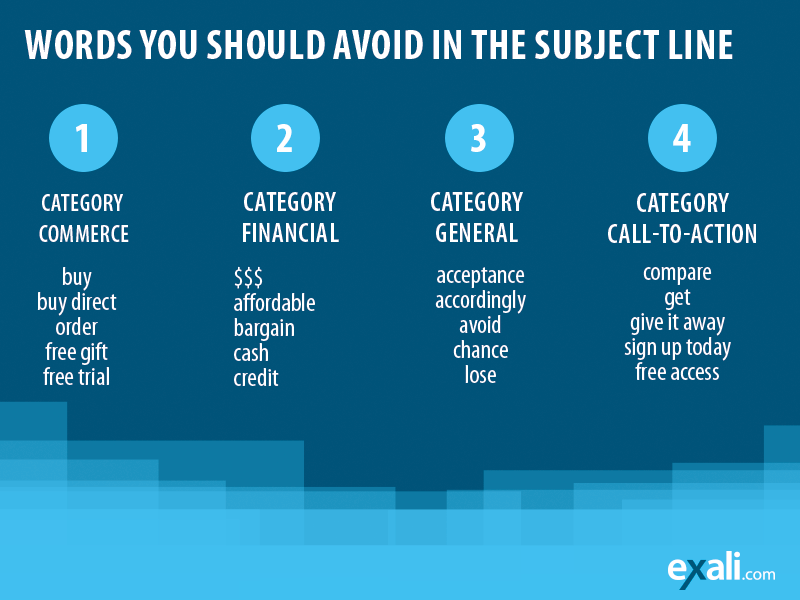 There are a few words that email providers will instantly identify as "spam", and send your email straight to the spam folder.
6 Tips for Better Newsletter Subject Lines
Keep the Subjekt Line Short
The first thing your subscribers will read in your newsletter is the subject line. Because the subject line is displayed with different lengths on different email clients, and is even shorter on mobile devices, (e.g.: GMX: character length 77, Hotmail: character length 45), a maximum character length of 45 characters is recommended.
Teaser the Most Important Topic:
Recipients need to be able to see quickly whether the newsletter content is relevant for them. That's why the subject line should include the most important topic in the newsletter.
Eye-catching Emojis
You can spice up your subject line with emoticons instead of words. This way, you can also avoid spam words, for example, by using an alarm clock instead of the word urgent. But look out: Use emojis sparingly, and most importantly, keep in mind that some are rendered differently on different devices.
Watch Out for Spam Words
Spam words are words, phrases or characters that the spam filter of the respective e-mail provider classifies as spam, so it banishes the emails directly to the spam folder. Wording that is too promotional or dubious words or characters are considered spam words. This includes:
Order now, order today, apply now, act today,
Call, call today, click here,
Exclusive deal, free gift, free trial,
$$, €€€€
Get Personal
A personal greeting is becoming increasingly important for newsletters. The newsletter tool Sendinblue analysed 12,000 email subjects and found that a personalised greeting increases the opening rate of emails by 10.6 percent. Depending on the tone, you can address your subscribers by their first name, first and last name or, if you don't know their first and last name, with a personal formulation such as:
Hi readers! Save 12% on Fantasy.
Dear fashionistas: Have you seen this look?
Freelancers should know this hack
Make them Curious:
Pique your recipients' curiosity about the content by asking questions (Do you know why you're losing subscribers?), making claims (Here's how to never loose subscribers again), or a combination of the two (Losing subscribers? Make sure it never happens again!).
4 Your Newsletter Doesn't Have a Responsive Design
What applies to websites, blogs and online shops also applies to newsletters: The design should be responsive, i.e. adapt to all end devices (PC, laptop, tablet, smartphone). No one wants to read a newsletter where text or images are truncated or oversized, or where graphics are replaced with empty boxes with question marks.
5 Too much Advertising
Especially as an online retailer, your newsletter probably has the goal of advertising your product range. Unfortunately, your subscribers are likely to receive such offers not only from you, and no one wants to be constantly encouraged to buy. So combine sales offers with other information in your newsletter – for example tips or news on topics that are relevant to the business.
Other Reasons for Unsubscribing from a Newsletter
In addition to the five reasons above, there are several other reasons subscribers may unsubscribe from your newsletter. This includes:
The email design is confusing or the subscribers don't like it
The newsletter content doesn't change enough
Your subscribers' inboxes are full
Your recipients don't have time to read your newsletter
Your recipients' needs have changed
Your recipients never signed up for the newsletter – or it was so long ago that they can't remember.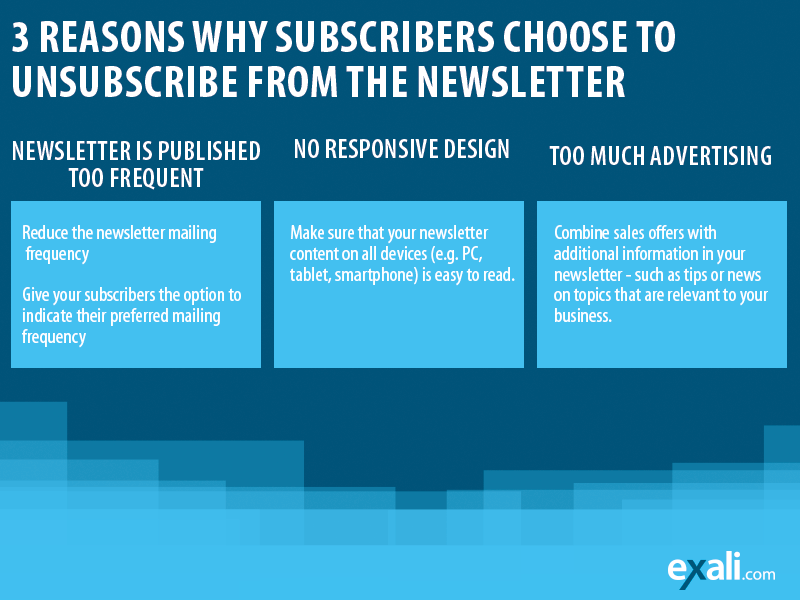 There are various reasons subscribers may unsubscribe from your newsletter – three of the most common are: the newsletters are too frequent, the design is not responsive, or there's too much advertising.
Marketing Tips for your Newsletter: Here Is How to Prevent Unsubscribing
There are things you can do to prevent your subscribers from unsubscribing from your newsletter. But always keep in mind: None of the measures should annoy your customers or technically prevent them from unsubscribing. We've summed up some tips here:
Prevent Unsubscription Already During Newsletter Registration
According to the GDPR, you are required tell future readers when they register how often the newsletter will be published and what content they expect. But you can still give users the opportunity here to make a selection, for example with regard to the newsletter frequency or subject areas. Of course, the latter only makes sense if you have several subject areas to choose from. But be careful: The choice must be voluntary! According to the GDPR, only the following fields may be mandatory when registering for a newsletter: the recipient's email address and confirmation that they have read the information on data processing.
The double opt-in procedure, which is required for legally compliant newsletters, means that it is almost impossible for someone to receive your newsletter even though they have never registered. But some customers may simply have forgotten that they registered. This might be because they receive too many emails, or because they entered their email address to receive a goodie – such as a voucher or an e-book etc. – and overlooked the newsletter registration.
Pay Attention to the Newsletter Design
In addition to a responsive design, the newsletter design is also important. Pay particular attention to clarity and interesting content. Don't turn your newsletter into a promotional event.
Prevent Unsubscribing During the Unsubscribe Process
When a subscriber clicks on the "unsubscribe" button this is your last chance to keep them. Clicking on this button should definitely send them to the "unsubscribe page". You can offer users the option here to tick their reasons for unsubscribing (important: the choice must be voluntary) – and some of the reasons give you the opportunity to offer solutions:
Newsletter frequency
If they click on "Newsletter is too frequent", you can integrate a drop-down menu here that allows subscribers to reduce the frequency.
Take a break
If they click on "I'm getting too many emails" or "My inbox is full", you can integrate a button here that allows them to take a break, for example. That way you don't lose the subscriber right away.
Offer an alternative
Some recipients just don't want to receive emails anymore. But you can offer alternatives to emails. For example, refer them to your social media channels, WhatsApp newsletter etc.
Prevent Unsubscribing: What Is not Allowed
Even if you hate losing newsletter subscribers, don't try to discourage someone from unsubscribing by making the unsubscribe process unnecessarily difficult. It has to be easy and uncomplicated to unsubscribe from the newsletter. You are also not allowed to require them to give you a reason for unsubscribing. This information must always be provided voluntarily.
And the most important thing: Once recipients have unsubscribed from the newsletter, you may no longer send them emails. If you do, it is illegal advertising that could be subject to a legal warning.
Whether it's a newsletter or marketing glitch: You're well-insured with exali
There are a number of things to consider when sending out newsletters, which is why a lot can go wrong. If you receive a legal warning, for example, because of improper advertising or a violation of competition law, it can result in an expensive claim for damages. If you take out Professional Indemnity Insurance through exali.com, we will take care of everything else in the event of a legal warning. The legal warning will be checked and, if necessary, rejected or justified claims for damages will be paid.
You can take out our insurance policies completely online in just a few minutes. Need help choosing the best insurance for your business? Then give us a call - without dealing with queues or a call center.
Author profile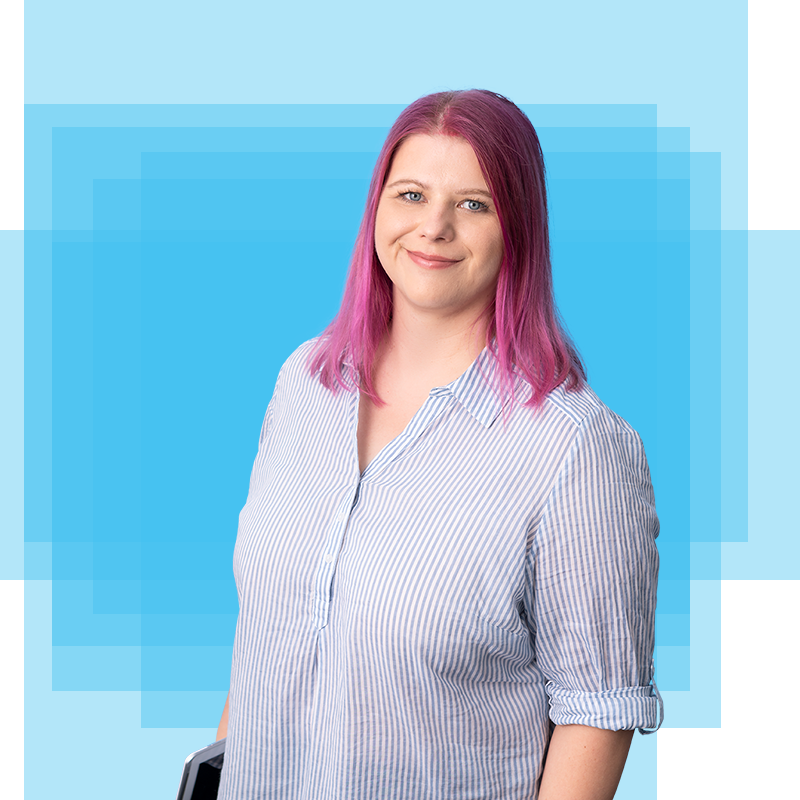 Daniela has been working in the areas of (online) editing, social media and online marketing since 2008. At exali, she is particularly concerned with the following topics: Risks through digital platforms and social media, cyber dangers for freelancers and IT risk coverage.
In addition to her work as an online editor at exali, she works as a freelance editor and therefore knows the challenges of self-employment from her own experience.