Tips for creating professional videos
Videos For Business: How to Use Moving Images Optimally
Moving images attract attention – and not just in the form of advertising videos. When used correctly, short videos can not only enhance your website, but also your social media channels. This article explains the different types of videos, how to use them correctly on your website and other communication channels, and what you should keep in mind.
Present your Business Better with Videos
Images are important – not only for online shops, but also for presenting your business and services in the best possible light. In addition to good-quality images as well as variety, it's also worth creating videos about your business or service. Why? Because videos generally attract more attention – especially in social media – and because they can be used to present complicated topics quickly and easily.
What Should a Video about your Business Look Like?
The design of the video depends a lot on what kind of products or services you offer. Physical products are best shown "in action". For example clothing or jewellery as worn by a model, or furniture or electronic devices in use – digital products or services, on the other hand, should be explained. The best way to do this is with explanatory videos that briefly and clearly describe how a service works or how a product can be downloaded. The trick with this type of video is finding the right mix of simplicity and detail. There are basically four different formats for explanatory videos:
#1 Tutorial:
Tutorials are exactly what the name suggests: Instructions in video form. They are good for demonstrating products or how they work. For example, if you sell a downloadable product, you can film the purchase or download process with a short screen recording (video recording of your desktop). There are a variety of free tools these days that can be used for screen recording. In general tutorials are best suited to explain the installation, construction or use of physical products.
#2 Animatics:
Animatics or story reels are animated graphics – such as a drawn storyboard or stock photos that are edited into a video, possibly with animations, voice-over or musical background. The advantage of animatics: They can be produced relatively quickly and inexpensively. It's just important to focus on presenting your services (or products) as simply as possible. The point of the video is to introduce potential customers to your services or your product range – you don't have to explain things in detail.
#3 Cut-out animation / Whiteboard
This video format is particularly popular for explaining complex topics in a simple and clear way. With the "Whiteboard" version, viewers see a hand writing or drawing on a whiteboard, while a voice-over explains the connections. Cut-out animation works like this: A hand places cut-out images on a table (or white background) in order to tell a story – a voice-over is used to explain the connections here as well. The advantage of this type of video: It looks creative and entertaining due to the varied scenes. Disadvantage: Whiteboard / cut-out animation videos are more expensive and complex to produce.
#4 Motion graphics
Motion graphics – i.e. moving images – mean 2D animations with matching typography. These videos offer a wide range of designs and are also very appealing to viewers thanks to specially designed graphics. Disadvantage: Videos with 2D animations are very complex to produce, so they are more expensive. That's why it makes more sense to use them with existing digital services or other services.
Video Production: Do it Yourself or Hire Someone?
How complex it is to produce a video depends heavily on the type of video you choose. For videos about products – regardless of whether they are "in action" or detail shots – it's always a good idea to take the shots in a studio. You can either rent the studio or set up a room in your company building. But setting up your own room is only worthwhile if you keep adding new products to your range and regularly shoot videos. You should also have an employee on the team who is proficient in video editing and processing.
Tutorials, on the other hand, are relatively easy to create yourself – as long as you or one of your employees knows how to use image and video editing programs. But it's advisable to work with an agency if you are creating animated videos. An agency can also create videos or tutorials – it's always important here to get several offers and precisely describe what you want and where you want to use the videos. An approximate idea of your budget can also be helpful.
Videos Are Not just Useful in eCommerce
As pointed out above, videos attract attention – especially in social networks. According to Hubspot, videos on Instagram have about twice the engagement rate of single images or carousel images. On Twitter, the engagement rate for tweets with videos is ten times higher than for tweets without moving images. The engagement rate is a formula that measures the number of interactions that content published on a social network generates in relation to its reach and other audience figures. Interactions include, for example, reactions (such as likes, hearts and so on), comments as well as sharing (retweeting) the published content. In principle, the higher your engagement rate, the more people you reach. Facebook and Instagram now also offer integrated shopping functions so you can sell your products directly in the respective network.
Why Videos Are also Relevant for SEO
In addition to the fact that videos bring your products or services closer to your (potential) customers, videos also have an impact on your search engine ranking. That's because Google rewards websites and online shops that have high-quality video content. In order to get the most out of the videos, you should consider a few things from an SEO point of view:
File name: Not much thought is usually put into the file name, but it's very relevant for the video ranking. So just like with images: Use a file name that includes your brand/platform and main keyword. For example, if your brand is "CatLover" and the product shown in the video is "Banana Leaf Cat Tree", then the file name should be CatLover_CatTree_BananaLeaf.mp4.
Video title: Include both a title and a short video description for each of your videos. Regardless of whether you integrate the video into your online shop or a social network. The video title is equivalent to the main heading (H1) of a text and should contain both the most relevant keyword and a description of the content shown.
Video description: Even if it's a short product video, be sure to include a brief description (one or two sentences) of what the video shows.
Tags: Video platforms like YouTube and Vimeo use tags to classify your video content thematically. These tags can also be useful on your own website or in a web shop, for example to find products faster. It's best to use the same keywords here that you use for the product.
Thumbnail: This is a preview image of the video. You should always create your own picture and give it a title – it makes the most sense to use the video title. On video platforms, thumbnails are always the first thing users see of the video.
Subtitle: YouTube now automatically generates subtitles for all videos. This is to ensure accessibility. This function is particularly interesting for companies, because subtitles of video content can be evaluated by search engines and can therefore specifically influence the video ranking. So take the time to manually create subtitles on YouTube.
Formats: In general, only use video formats that work on mobile devices so your customers can also view the video on their smartphone or tablet.
Video Production: Stay on the Right Side of the Law
As with images on your website, the same applies to videos: If you don't make your products yourself, get written permission from the manufacturer first before creating a video. If the manufacturer already has a product video available, get approval before you integrate it into your online shop or other channels. Also make sure that the video doesn't contain any advertising messages that could result in a fine. This includes, for example, advertising using superiority claims, such as: "Cheapest product", "Best-selling software solution" and so on. Advertising statements always have to be verifiable.
Videos Add Value to your Web Presence – and Professional Indemnity Insurance Protects your Business
We recommend taking out Professional Indemnity Insurance so you can fully concentrate on your content and expanding your online shop or website. This insurance protects you, for example, in the event of copyright infringement or violations of competition law. In the event that you are fined, the insurer will check whether the claim is justified and will either cover the claim for damages or defend against unjustified claims.
You can take out our Professional Indemnity Insurance directly online or get advice from our friendly customer service team on +49 (0)821 / 80 99 46 – 0.
Calculate your premium now:
Author profile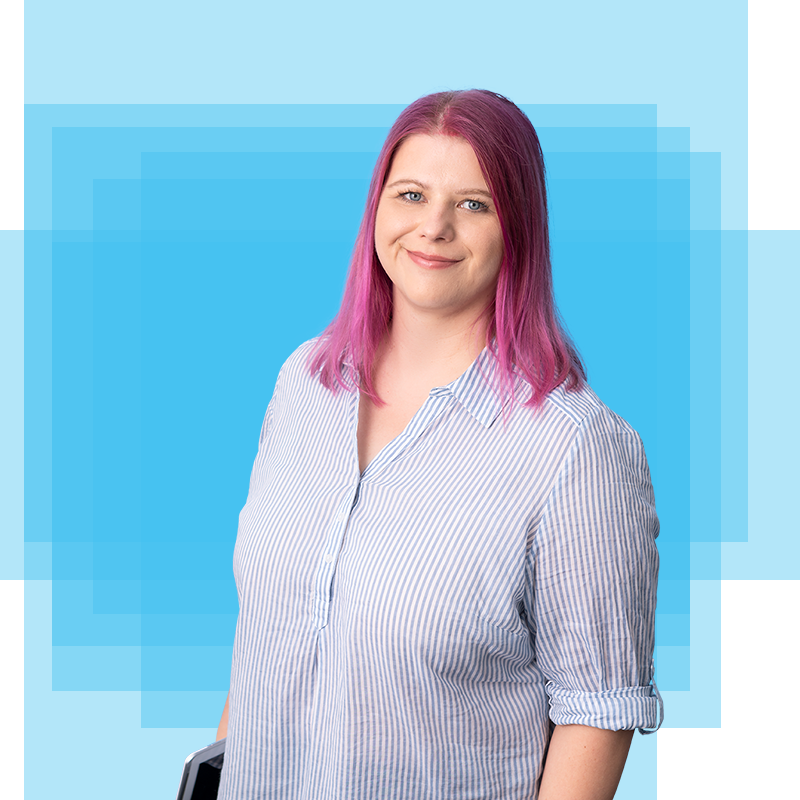 Daniela has been working in the areas of (online) editing, social media and online marketing since 2008. At exali, she is particularly concerned with the following topics: Risks through digital platforms and social media, cyber dangers for freelancers and IT risk coverage.
In addition to her work as an online editor at exali, she works as a freelance editor and therefore knows the challenges of self-employment from her own experience.