Gateway for Hackers
How to Protect Yourself from Cyberattacks via Adobe Cloud
The Adobe Creative Cloud is part of the basic software equipment for many creative people – because its variety of programs offers a wealth of options for content creation. But it also offers room for attacks by cybercriminals. This article tells you all about the risk factors agencies and freelancers are exposed to when working with the cloud and how you can protect yourself against hacking attacks through the Adobe Creative Cloud.
Complex Network - Complex Risks
The multi-layered structure of the cloud offers a gateway for malfunctions, attacks and operating errors. Hackers have long since discovered this and exploit the security gaps at the level of structures and personnel. Adobe already needed to fix vulnerabilities in Acrobat Reader, Bridge, Dimension, Framemaker and Illustrator in July 2021. Most of these were considered critical.
These risks already begin with the incorrect operation of an application. Whether it's an unauthorised copy that ends up on a desktop or a well-meaning team member who changes a setting for the supposedly better without prior consultation, thereby opening the floodgates to criminals – improper use can have serious consequences. Deficiencies in the infrastructure also have a firm place in the ranks of risk factors. Poor data backup, lack of access controls and improper or incomplete deletion of media that is no longer required are an invitation for hackers.
Secure Content Creation from the Start
While you can't protect 100% against cybercrimes, companies can still take steps to ensure that they aren't completely unprotected against the risks of working in the cloud. It's important to know and to understand the tools and mechanisms that an application provides for security purposes in advance, so you can use them when there's an emergency.
This is where Adobe wants to go on the offensive: According to the company, security has been integrated into the entire software development process. An incident response team should be able to react quickly and flexibly to incidents. In addition, Adobe is constantly advancing security through cooperation with partners, experts and other companies. Users are encouraged to report vulnerabilities promptly via the Adobe website and to only buy software from specialist retailers. Cracked software where the manufacturer's copy protection has been removed is not only illegal, but also not very conducive to cyber security.
Personal and Structural Security
The security of data always goes hand in hand with personal security. Lots of cyber attacks are possible primarily because of human error in companies – we look at the causes behind hacks in detail in our article on cyber crime in 2021. In order to minimise the various risks, you need to take a number of measures in your company that allow you to create content in a framework that is as protected as possible.
Protect your data - even while it's in transit
Classify your data according to sensitivity and analyse which mechanisms are used so the data can remain confidential at all times, for example through encryption, tokenisation and access controls. A token is a hardware component for identifying and authenticating users. And don't give out any personal or account information. Adobe never asks for either.
Regular updates
Be sure to keep your applications up to date. Updates close security gaps and ensure smooth processes over the long term.
Get help
Don't be afraid to seek support if you have problems. Adobe offers its customers support for all security-related questions.
Stay alert
You can receive security vulnerability reports through many different channels. So you should stay up to date and revise your security measures if necessary. It's important to always keep your eyes open and watch out for anything suspicious, such as ominous emails with lots of spelling mistakes. Check the destination URL, sender, and content if you get an email like that. This is also important: Never downplay such discoveries and always take reports from your employees seriously. If in doubt, stick to the previous point and seek support.
Create clear roles with appropriate permissions for working in the cloud.
To do this, adhere to the principle of least privilege. According to this principle, users only receive the access rights necessary for their area of responsibility. This goes hand in hand with clear identity management – i.e. the targeted administration of user data that is assigned to individual participants. Also, avoid rigid login credentials. It's better to change them regularly.
Tracking
It's best to record actions and changes in real time so you can clarify problems and take action if there are issues.
Strict separation of users and data
Reduce direct access and manual data processing to a minimum. This measure significantly reduces the risk of incorrect operation and human error.
Set up incident management
Specify these things precisely: What should happen in an emergency? Who is involved? How do you restore a file or system to its original state?
Ideally, you should secure your work in the Adobe Creative Cloud at all levels, internal and external. If you reduce manual actions to a minimum, encrypt your data, and set up sensibly structured access management, the cloud will enrich your everyday work and allow you to create content worry-free and efficiently.
You Give Everything for Your Clients – and exali Has Your Back
In your creative work, you're always focused on helping your clients succeed with great content. But when it comes to security measures such as data encryption or the assignment of access rights, errors can quickly creep in and turn the software, which is actually supposed to make your work easier, into a security risk. When criminals exploit these gaps, the damage is usually extensive and, in the worst case can threaten your financial existence. That is why the Professional Indemnity for Digital Professions via exali for creative people, also has the First-party Cyber and Data Risks Insurance (FPC) add on. This protects you and your business from first-party claims in connection with hacker attacks, cyber blackmail, DDoS attacks and other Internet crime. So you can devote yourself to your work with peace of mind – always knowing that you will have professional support at your side in an emergency.
Get a quote now!
Author profile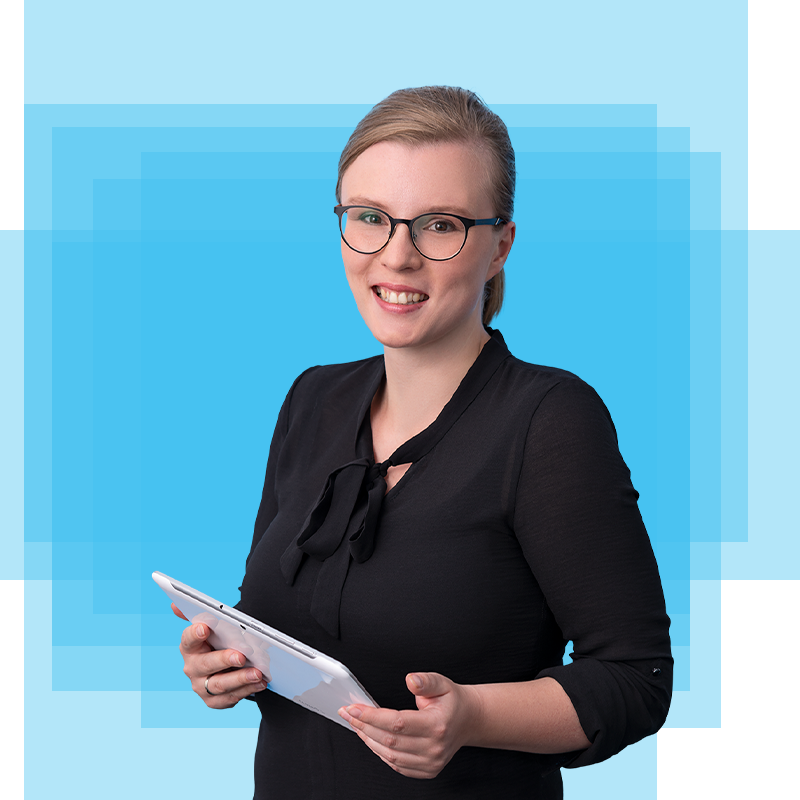 Vivien Gebhardt is an online editor at exali. She creates content on topics that are of interest to self-employed people, freelancers and entrepreneurs. Her specialties are risks in e-commerce, legal topics and claims that have happened to exali insured freelancers.
She has been a freelance copywriter herself since 2021 and therefore knows from experience what the target group is concerned about.