Crowdfunding as a subscription model
Patreon: Financial Freedom for Creative Freelancers?
Patreon gives creative people such as podcasters, visual artists, bloggers, and illustrators the opportunity to earn money with their work. How? With crowdfunding as a subscription. The basic idea is that creative individuals are paid by the community for their published work. This article explains exactly how this works, what opportunities the platform offers creative freelancers, and what risks should be considered.
What is Patreon?
People who produce their own work – whether in the field of graphics/design, video games, text, music or podcasts – often have to get by for a long time without being paid. This is exactly where Patreon wants to step in and enable artists to earn money with their works. In principle, the platform works like crowdfunding, only as a subscription. Ideally, many "Patrons" continuously finance the work of the "Creators" who publish their works via Patreon.
Creators on Patreon include:
Podcasters
Video creators
Musicians
Visual artists
Game creators
Authors and journalists
Online communities, local businesses (such as nightclubs), non-profit organisations and authors of tutorials and guides of all kinds can also use Patreon.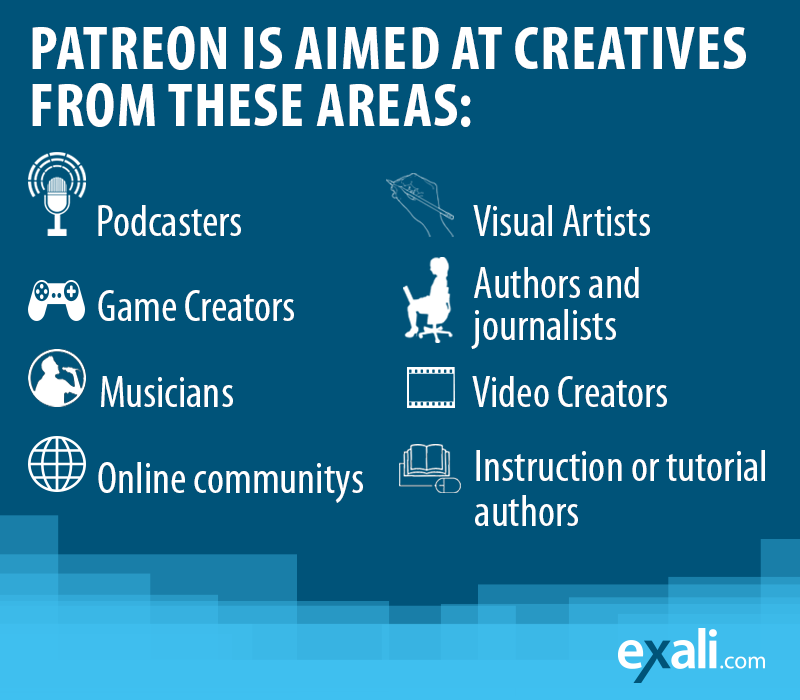 How Does Patreon Work?
The idea behind Patreon is quite simple: Anyone who wants to publish their work there registers and then creates their own Patreon page where they publish their creations. The page will later be accessible on the web, but the creative content can only be seen by the patrons who support the corresponding account. If you are not a patron, you will only see the description and the subscription models offered by the respective artist. Signing up and creating your own Patreon page is completely free. Creators only pay if they also generate sales through their supporters.
Is Patreon Free to Use?
As mentioned above, creating a Patreon page and publishing content is free for creators. However, the platform retains a commission when patrons support you. The amount of the commission depends on which of the three available plans you use as a creator:
Lite
Lite is the "base plan" for Patreon, so to speak. Under this plan, the platform keeps 5 percent of your monthly earnings, plus payment processing, in exchange for a hosted Patreon page, access to workshops, and communication tools.
Pro
Pro gives you additional benefits in addition to the tools included in Lite, such as:
Membership level
Analysis and Insights
Promotion tool for special offers
Workshops with creative people
Unlimited app integrations
Priority customer support
In return, Patreon keeps 7 percent of your monthly earnings.
Premium
Premium retains 12 percent of your monthly earnings through Patreon, but in additon to all the content from Pro, you also get a personal Partner Manager, the ability to offer fan merchandise for membership, and accounts for teams.
Other fees
Patreon charges fees for payment processing in addition to the commission. This includes the costs that Patreon charges for the transfer of supporter's funds to your Patreon balance. Other fees include withdrawal fees – if you transfer your Patreon balance to your bank or PayPal account – and conversion fees. The latter occurs when you receive money in a currency other than what you have specified on the site – for example US dollars instead of euros. Patreon charges creators a flat currency conversion fee of 2.5 percent.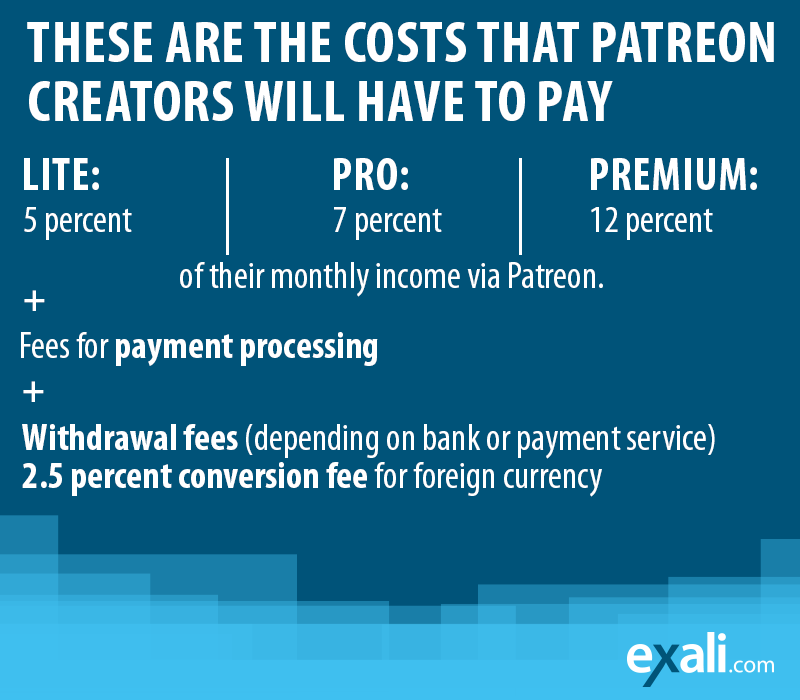 How to Get Started as a Creator on Patreon
In order to use Patreon, whether as a creator or patron, you first need an account. Then you can start setting up your own Patreon page. People who want to use the platform as a creator get their own subpage on Patreon, which can later be integrated into social networks or their own website. The platform offers starter kits to make it easier for beginners to get started. You can choose what content you offer and get some presets for your site with the starter kits.
Creating a Patreon Page
Your Patreon page is also the face of your community – it is where you post content that only your supporters can see. Patreon provides you with its own content management system for this purpose, where you can set the following:
Basics:
This is where you control what the world outside of Patreon can see from your page, like:
The name of your Patreon page. This could be your legal name, your stage name, or the name of your band/podcast/community/organisation, and so on.
Logo and cover photo of the page – similar to something like a Facebook page or a YouTube channel.
What you want to offer your community – texts, images, music, drawings etc. depending on what your focus is. But you can also offer several different contents, such as: podcasts, lyrics and music, or webcomics, text, videos and so on.
Presentation: This is about presenting yourself and your own work, but also about what you want to achieve with Patreon and what you want to offer your community. Optionally, you can also publish an introductory video in addition to the text.
Level
Level denotes the benefits your supporters receive depending on how much money they pay you monthly. You can specify the following here:
How many levels there are
What the levels are called (for example: silver, gold, platinum or 1,2,3)
How much each level costs (starting price for the lowest level is one euro)
Artwork for each level (if any)
What content your community will receive for each level (for example: early access to fan merchandise, exclusive newsletter, exclusive content. and so on)
Apart from the minimum price for the lowest level, you have full freedom here. You can choose the prices, the number, and the benefits yourself. There is even an option to limit the number of supporters for a level so membership is even more exclusive.
Merch
You can provide your community with exclusive content, such as fan articles or digital content (for example, an exclusive podcast episode or previously unreleased artwork).
Payment
Under this point, you determine how your supporters can pay you. There are two options to choose from: Monthly or per creation, i.e. for each published work.
Page settings
In the page settings, Patreon first asks for your legal first and last name, as well as your place of residence (or that of your business). You can also set the colours used on your Patreon page, whether you want your supporters to see your earnings, and whether you want your patrons' account names to be visible. You also have the option of storing your business address (if available) and connecting your social network profiles.
Advanced
Additional functions can be set here, such as:
Welcome greetings: For every new supporter. The welcome greetings can also be customised for each level.
Goals: You can set goals here that your community can see – such as revenue goals (monthly earnings of X amount) or community goals (I want X patrons to follow my page). It is important you also mention a benefit for the community when formulating the goal, such as: If I earn 3000 euros a month, I can hire an editor and publish two videos a week.
Offers: This is where you can list special content for your patrons, such as a profile picture you designed, an autographed book, or special merchandise.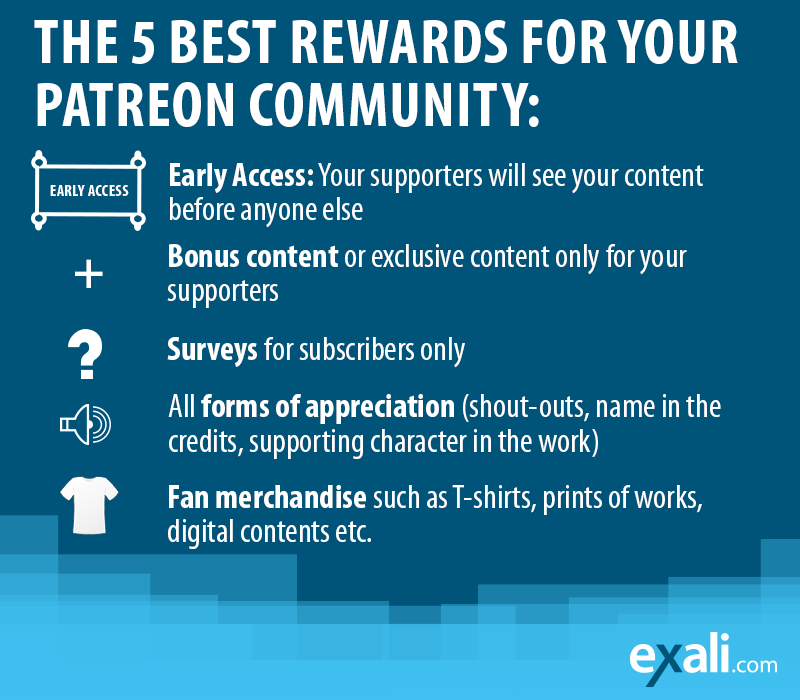 How Do you Make Money with Patreon?
Well, the simple answer to that is: The more patrons you have, the more money you make. However, anyone who uses a social network, a website, or an online shop for their business knows that things aren't that easy after all. Generally, in order to gain supporters, you first have to let the world know that you and/or your business and/or your works exist. If you already have your own website, a blog and/or an online shop, as well as a community in one or more social networks, you have an advantage here, because you can integrate Patreon into your social media and websites.
Anyone who doesn't have a social media profile or only has a profile with a small reach will of course find it more difficult to gain potential supporters for Patreon. Unlike social media platforms, the Patreon community is not designed to grow as an entire network and focuses only on the growth of the individual pages. That means, users usually don't visit Patreon itself but Patreon/[Creator]. In order for your Patreon page to grow and gain reach, your other channels need to grow with it. Alternatively, there is of course also the possibility of drawing attention to your Patreon profile via SEA measures and paid advertising in social networks. However, you have to be careful then that your earnings via the platform don't immediately get eaten up as expenses.
Patreon in Non-English Speaking Countries
Those who distribute their content in any other language than English also have the additional problem that the Patreon concept hasn't fully established itself outside of the US, yet. According to Patreon, there are around eight million supporters on the platform – but most of them come from America. So it might make sense to consider whether your brand can also be pitched internationally – this of course works better (drawings, images, music, etc.) or worse (texts, podcasts, etc.) depending on the medium. In addition, the conversion fee of 2.5 percent mentioned above applies to income from foreign currencies.
Risks: You Should Keep this in Mind when Using Patreon
Patreon itself offers various functions – including, for example, a target group analysis with Google Analytics, as well as sending messages to different user groups. If you use these features, you need to make sure that your Patreon page is GDPR compliant. That means you need at least a data protection declaration and an imprint/legal notice. If you offer your supporters a newsletter, they must register using a double opt-in procedure.
It is also important that you own the rights to the content you post on Patreon. This applies, for example, to songs or sounds, video effects, graphic effects, images, and so on. Always make sure you own the rights to content that you didn't create, or you could be hit with a copyright infringement notice.
Insuring your Creative Business
Patreon certainly offers creative freelancers who want to focus on their own work a good opportunity to get paid for it. To ensure you can concentrate fully on creating content and building a community, exali's Professional Indemnity Insurance protects you against risks such as fines for violations of rights (e.g. copyright, trademark law or personal rights), as well as GDPR violations and others.
Security Even in the Event of a Recourse Claim
Professional Indemnity Insurance also covers you in the event of a recourse claim: Such cases may arise if do not market your own works on Patreon, but create Patreon pages for your customers as a service provider and they suffer damage as a result of one of the risks mentioned. Note: In this context, a recourse claim means that your customer holds you liable for the damage they cause.
In the event of a damage event, the insurer will clarify who is at fault thanks to the integrated passive legal expenses protection. Justified claims are taken over by the insurer and unjustified ones are defended against on your behalf. You can easily take out our Professional Indemnity Insurance online in just a few minutes. If you have any questions, our customer advisors will be happy to help you – without a call center or queues. You can reach exali customer service from Monday to Friday from 9 a.m. to 6 p.m. (CET) on +49 (0)821 / 80 99 46 - 0.
Calculate your premium now:
Author profile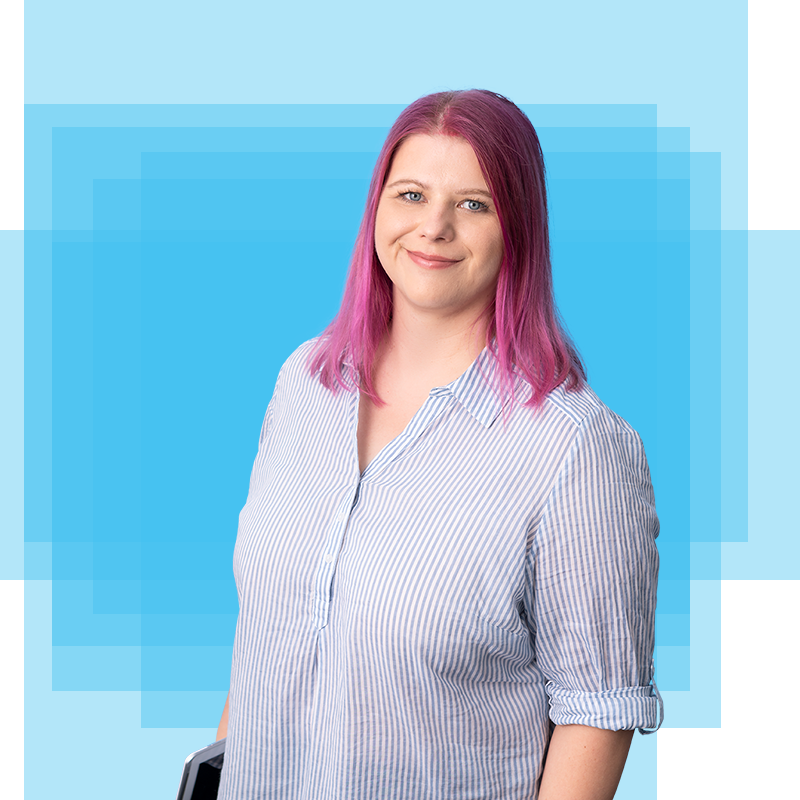 Daniela has been working in the areas of (online) editing, social media and online marketing since 2008. At exali, she is particularly concerned with the following topics: Risks through digital platforms and social media, cyber dangers for freelancers and IT risk coverage.
In addition to her work as an online editor at exali, she works as a freelance editor and therefore knows the challenges of self-employment from her own experience.