The professional risks of copywriters
5 Risks Freelance Copywriters Should Be Aware of
Incorrect or missing source references, text passages adopted one-to-one or missed deadlines: a small mistake can happen more quickly than you think and, in the worst case, have expensive consequences. This article explains the risks you should be aware of as a freelance copywriter, journalist, blogger or author, especially when using new technologies such as ChatGPT, and how to protect you and your business.
Article Overview:
Risk 1: Copyright Infringement
ChatGPT and Co: Writing with AI Tools
Risk 4: Breach of Confidentiality
Professional Indemnity Insurance to Cover Your Risks
Risk 1: Copyright Infringement
This should go without saying: When creating your copy - whether it's a journalistic article, a product description or a social media post - always make sure you don't copy any phrases from other texts. Just like images, video or audio content, text is protected by copyright. If you use someone else's text without attribution, you risk receiving a warning for copyright infringement.
Quoting properly
It is a different matter when you quote other people's texts or statements. However, it is important that you identify the authors of the quoted text or individuals cited, as well as the source (for example, an interview, a press release, a post on a social network or a video on YouTube) and the context in which the quoted passage was made.
Duplicate Content
In addition to the risk of copyright infringement, search engines such as Google also penalise duplicate content. If web pages or articles in online magazines contain too much of the same content, this will have a negative effect on the SEO ranking of the pages. In addition to a warning for copyright infringement, you also risk getting in trouble with your customers.
Risk 2: False Facts
Proof is required - one of the most important principles for journalists. If you spread untruths, you risk being prosecuted in the worst case. It is therefore important to always check your sources for truthfulness, but also for expertise and knowledge. For example, the testimony of a scientist in the field is likely to be more reliable than that of a politician or a celebrity. But representativeness is also important, especially when it comes to evaluating surveys or studies. In order to check the veracity of your texts - especially in the case of journalistic work or blog articles - you should always indicate the sources you have used, preferably by providing links.
Of course, despite the accuracy of your sources, people or companies may disagree with your reporting and sue you. The phenomenon of taking legal action against journalists to suppress the publication of controversial content has unfortunately become so widespread that it has its own name: SLAPP - Strategic Lawsuits Against Public Participation.
ChatGPT and Co: Writing with AI Tools
Since the release of the ChatGPT chatbot in November 2022, the topic of AI-generated content has been on everyone's radar. The idea of having an AI create your text and save you valuable time sounds almost too good to be true. And it is. Practice with the chatbot shows that there are limits to using AI for research and copywriting, despite the often surprisingly good results. For example, the AI can usually write a product description without any problems, but with longer and more complex texts there is also a risk of factual errors.
Sam Altman, CEO of Open AI, calls this phenomenon "hallucinating ChatGPT". Because AI is based on calculating probabilities, it may simply "invent" a likely answer that is not true. If such a generated text is published without further verification, it can lead to unpleasant consequences. For this reason, the profession of copywriting is unlikely to become extinct as quickly as is sometimes suggested in the media.
AI Cannot Replace the Creative Process
At present (April 2023), none of the available tools can independently and flawlessly take over the creative process behind an article - from the idea, through research and structure, to the introduction of one's own opinion or classification, if necessary. But: ChatGPT and other applications can certainly be used as very helpful tools for writing and increasing effectiveness. However, it must always be borne in mind that clients have the right to expect a legally sound text (no double content, technically correct, no unauthorised quotations, etc.). Under current legislation, any errors in AI-generated texts are the responsibility of the freelance copywriter.
AI-generated Copy and the Question of Copyright
Things get tricky if you have the majority of your texts generated by an AI. If you want to create such texts, you should discuss this explicitly with your clients. Because: For AI-based content, the question of copyright is currently difficult to answer. In principle, only personal intellectual creations are worthy of copyright protection - and it is precisely this human creative power that an AI lacks. This means that your customers are not receiving "unique content" that is protected by you as the author. The key question is: are you, the user, the creator of AI-based content, or is it the chatbot itself? So far, legal experts tend to believe that these texts do not enjoy copyright protection under European law.
The AI Act to Regulate AI Tools
As with almost any new and disruptive technology, there are many legal grey areas that need to be regulated for the benefit of businesses, users and consumers. The AI Act is currently being debated in the European Parliament. This is a draft law that aims to create binding rules for artificial intelligence. It would classify AI tools into three risk categories, with different levels of regulation for each.
But the current draft of the AI law could spell the end for tools like ChatGPT, because AI-generated content that could be mistaken for human-generated content falls into the high-risk category under the draft law. We will keep you updated here.
Risk 3: Missed Deadlines
Freelance copywriters usually have contractually agreed deadlines by which work must be completed. Depending on the project, failure to meet these deadlines can result in additional costs to the client, such as late printing, late delivery or missed publication deadlines (for example, the launch of a website can be delayed if the copy is missing). Your clients can then claim these costs back from you in the form of damages. Your clients may also withdraw from the contract or claim damages for non-performance.
Your clients can also claim damages from you in the event of defective performance (for example, if your text is available but the points previously discussed are incorrect or missing altogether). The good news: Contractual Liability claims are fully covered by exali's Professional Indemnity Insurance.
Risk 4: Breach of Confidentiality
When you work as a freelance copywriter, you often work with a variety of clients and often gain access to information that has not yet been made public. If you inadvertently divulge or prematurely publish such information - for example, in a prematurely planned article or social media post - you could be in breach of confidentiality and, in the worst case, face a hefty claim for damages.
Risk 5: Licences
When you create a text for a client - whether it is a single text or an entire book - you must first contractually agree the terms of use for the written work. As the author, you can decide whether and to what extent you grant third parties the right to use your work. This is particularly important if the client wants to use your work only in part or as the basis for a text they have written themselves, as in academic ghostwriting.
Academic ghostwriting is generally legal, but submitting someone else's academic work as your own can have legal consequences, as well as sanctions such as fines or expulsion from universities. Therefore, you should clarify in advance the extent to which your work may be used. In the case of academic ghostwriting, for example, it is customary to stipulate in the contract that the texts may only be used as a basis for inspiration and may not be copied one to one.
Professional Indemnity Insurance to Cover Your Risks
It doesn't matter whether you are self-employed as an (advertising) copywriter, journalist, blogger or ghostwriter: All of the five risks mentioned above can affect you and, in the worst case, result in long and costly legal proceedings as well as expensive claims for damages. So that a small mistake does not cost you your freelance existence, good insurance is also very important when using AI tools. This is where Professional Indemnity Insurance through exali is at your side with its comprehensive protection for the creative and media sector.
In the event of a written warning or a claim for damages, the insurer first checks at its own expense whether the claim is justified. Unjustified claims are then defended on your behalf - justified claims are adjusted if necessary (for example, a cease-and-desist declaration) and paid out.
Author profile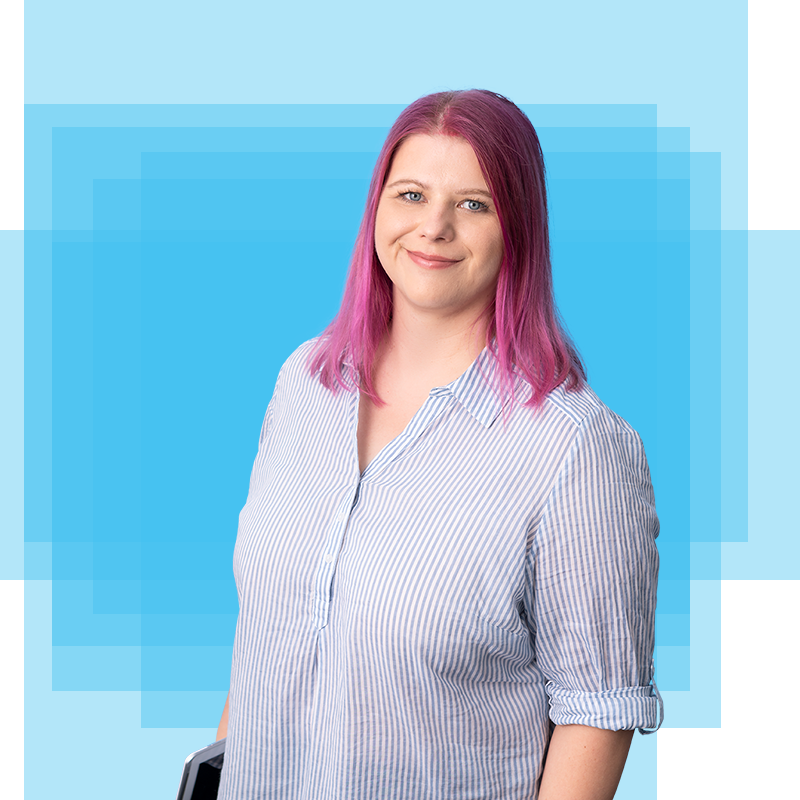 Daniela has been working in the areas of (online) editing, social media and online marketing since 2008. At exali, she is particularly concerned with the following topics: Risks through digital platforms and social media, cyber dangers for freelancers and IT risk coverage.
In addition to her work as an online editor at exali, she works as a freelance editor and therefore knows the challenges of self-employment from her own experience.