Integrate Livestreams into Marketing
Twitch for Business: How to Use the Platform as a Self-Employed Person or a Company
For a long time, Twitch was just for the gaming community, but during the Covid pandemic, more and more companies and self-employed people discovered its benefits. In this article we will show you how live streams can be used for business, what industries Twitch is interesting for, and what legal pitfalls and safeguards you need to keep in mind.
Twitch – from Gaming to Live Talks
Twitch.tv was created in 2011 out of the Justin.tv platform and was used almost exclusively by gamers for live streams. In contrast to YouTube, it didn't just offer ready-made gaming videos (so-called Let's Plays) but offered live streams instead. Viewers could watch other players in real-time as they played PC and video games – often for several hours. Streamers also had the opportunity to interact with their audience – to answer questions about the game or just to react to comments. The latter is precisely what makes the live streams on Twitch so interesting: the direct interaction between the streamer and the viewers.
Today there are still a lot of live streams from the gaming sector on Twitch, but new topics are establishing themselves increasingly. On top of the main categories games and esports, Twitch now also has added the categories IRL ("In Real Life") and music. Especially with IRL there is a colourful wealth of topics, the most popular of which are:
Just Chatting - this is where the streamers talk to their fans (or to each other) about various topics. The whole thing is like a "live coffee party" that lasts for several hours.
Art offers you the opportunity to watch the creation of works of art live - both digitally and analog.
Sport is a mix of workout streams, sports discussions and live broadcasts of sports events.
ASMR (Autonomous Sensory Meridian Response) is a category that offers acoustic or visual sensory stimuli via stream.
Travel & Outdoors: In this category, streamers film themselves on hikes or walks in cities or nature.
Pools, Hot Tubs & Beaches – this shows streams of scantily clad women (and men) in pools etc. as well as live streams from aquariums in zoos, animal welfare organisations and private ponds.
Food & Drink is all about food. In addition to professional and hobby cooks, restaurants also stream from their kitchens.
Science & Technology - this category includes craftsmen, programmers and scientists who stream their works or experiments live.
Talk Shows & Podcasts offers exactly what the title suggests: Live talks and podcasts.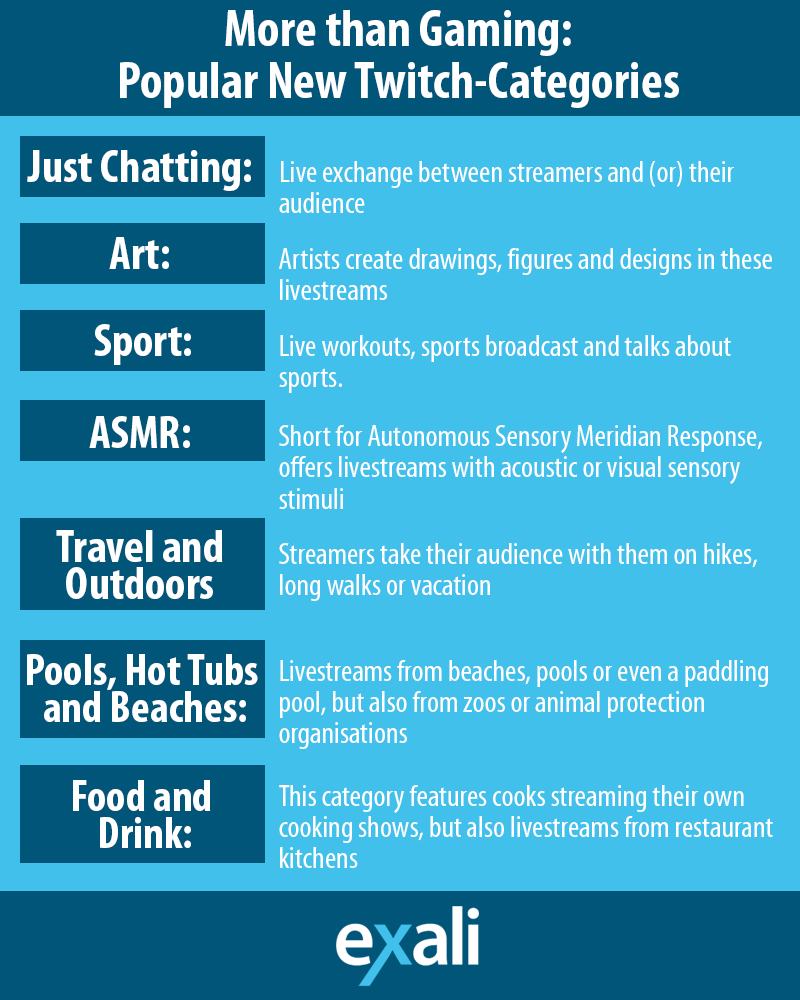 Twitch Without Gaming, is that Possible?
Definitely. As the above examples show, there are lots of new topics now that have nothing to do with games. This is certainly also due to the fact that many self-employed people, freelancers and companies were looking for digital alternatives to their previously "analog" offerings over the past year. Many fitness studios offered online courses, coaches held online seminars and retailers expanded their online business. This is precisely where opportunities arose for new content, some of which is already being developed by streamers. Some examples here are:
Animal welfare organisations that offer live streams from animal enclosures (for example the Marine Mammal Rescue Center from California)
Zoos, which also offer live streams from the animal enclosures
Fitness trainers who perform live workouts
Coaches who use Twitch for live webinars. A kind of "free seminar" can be held to get started on Twitch, as well as question-and-answer sessions or the like.
Chefs who present new recipes or the like in a live cooking show.
(Online) retailers, who for example, present new product ranges in livestreams or provide content that fits the subject area of your product range
Earn Money as a Twitch Affiliate or Twitch Partner
As you can already see, Twitch can be much more than a streaming platform for gamers. But now you're probably wondering: Okay, but what do I get if I offer my services (webinars, workshops, workouts, cooking courses, etc.) virtually free of charge via a streaming platform? You can actually make money with live streams – BUT only if you stream regularly and have a little patience. Twitch offers two programmes to earn money through streaming: Affiliate and Partner – you first have to activate an "Achievement" of the same name for both.
Twitch Affiliate
In order to earn money via Twitch's own monetisation options, streamers have to at least achieve the status of "Twitch Affiliate". For this you need the following achievements:
A Twitch channel with at least 50 followers
500 minutes of broadcast time in the last 30 days
Seven individual broadcast days in the last 30 days
Average of three simultaneous viewers or more in the last 30 days
Twitch Partner
In addition to being able to advertise and thereby receive an additional source of income, streamers can also activate additional features on their channel as a Twitch Partner. To achieve this status, you first have to complete the following achievements again:
25 hours of live streaming in the last 30 days
Twelve days of live streams in the last 30 days
An average of 75 viewers during your livestreams
Once you've completed the achievement, a button will appear on your channel that allows you to apply to become a Twitch Affiliate. The platform then decides individually whether you receive the title.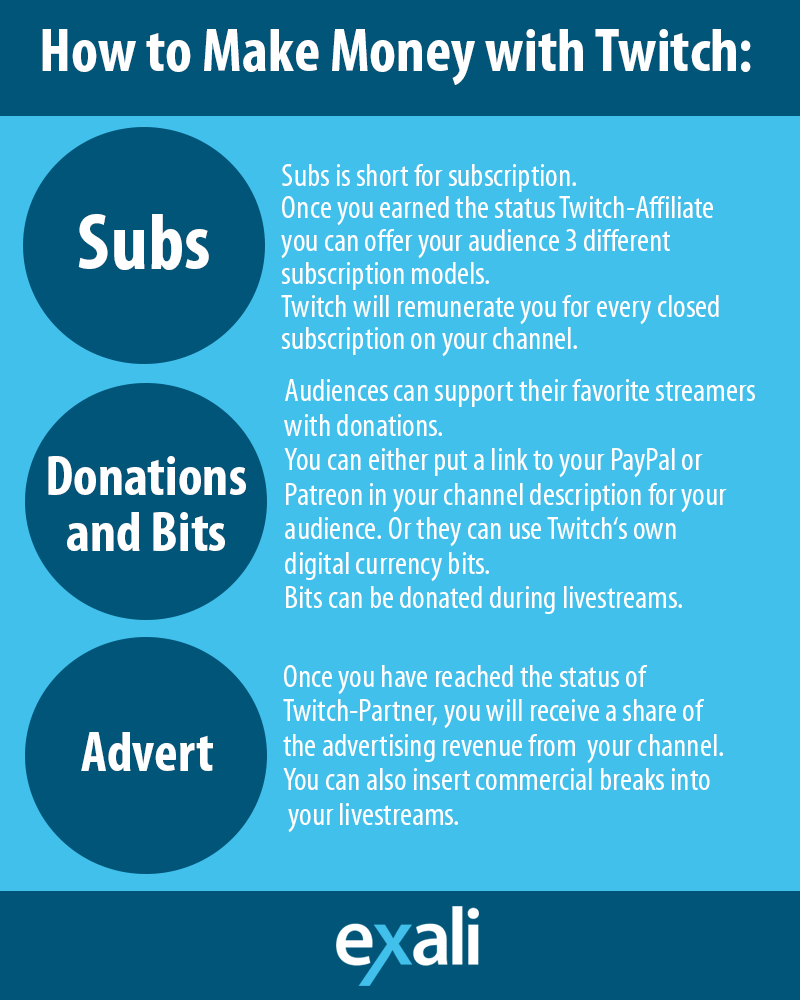 Ways to Monetise Your Streams:
In general, there are three ways you can earn money directly on Twitch if you are not showing gaming content. However, as you can already see from the various programmes: Twitch is not just about follower numbers, active viewers and streaming time are also crucial. There are thousands of streaming offers on the platform, many with the same or similar topics. So if you really want to earn money with live streams on Twitch, you not only have to build a community, but also deliver regular content – several days a week. Twitch is a platform that you have to invest time in and use continuously.
Here are ways to make money from your Twitch channel:
#1 Subscriptions
Once you are a Twitch Affiliate, you can offer subscriptions to your viewers. Via the subscriptions, streamers can offer their fans additional services such as custom emojis or ad-free streams. As the operator of the channel you can also set up other custom rewards for your viewers. There are generally three different subscription levels: Level 1 costs users € 3.99 per month, level 2 € 7.99 per month and level 3 € 19.99 per month. Twitch retains a portion of every subscription you complete on your channel, so you as a streamer in the end receive $ 2.50 (approx. € 2.10), US $ 4.99 (approx. € 4.25) and $ 12.50 (approx. € 10.65). Twitch only pays out the amounts in US dollars.
Since Twitch has been part of Amazon since 2014, Amazon Prime customers also have the option of taking out a so-called "Prime Gaming" subscription on Twitch. Prime Gaming corresponds to level 1 of a regular subscription, which means that if someone signs up for your channel, you will also receive a monthly payment of $ 2.50.
#2 Donations & Bits
Donations are the second major source of income for streamers. Twitch itself has introduced the "Bits" digital currency for this purpose. Users can buy Bits for real money and use them to support their favourite streamers. One Bit corresponds to one cent. They will appear in the chat as "Cheers". In addition to the Twitch currency, you can also generate donations, for example if you integrate a PayPal account. This is particularly popular with artists. This income is not generated directly via Twitch itself in this case.
# 3 Advertising
This option is only available to streamers with Twitch Partner status. This is where you get a portion of the revenue generated by advertising displayed through your channel. You also have the option of showing so-called "mid-roll advertising" during your live streaming. This can be used, for example, as a kind of "commercial break" where you briefly interrupt the stream for a toilet break for example.
Monetisation Beyond Twitch
In addition to what Twitch has to offer, there are also other ways that you can make money from livestreams. Here are some examples:
Patreon or PayPal: Especially creative people who offer drawings or tutorials in their live streams often integrate platforms such as Patreon or PayPal into their Twitch channel. Viewers can support the artists with donations through these platforms.
Merchandise: Here you can link to your own online shop where you can offer fan articles that fit your channel (e.g. T-shirts, DVDs, books, etc.).
Coupons / discounts: This option is well suited if, as an online retailer, you operate a Twitch channel on which you present your product range (e.g. clothing, make-up tutorials, toys, etc.). For example, a link in the channel offers a voucher or discount code that viewers can use to shop in your online shop.
Paid content: If you, as a coach or fitness trainer, offer livestreams with free content, you can also offer paid services such as an online course that participants join through your website. You can point this out in the stream and also include a link in the channel.
Creating and Structuring a Twitch Channel: Keep this in Mind.
Creating a Twitch channel is very easy: Go to www.twitch.tv, click on "Register", enter the required data and you've created a channel. In theory, if you have the right equipment, you can start your first live stream straight away. In practice, however, you should pay attention to a few things, especially if you are a self-employed person, freelancer or company:
# 1 Channel Design
The first thing to think about is the design of your channel. Twitch itself already offers you a few options for setting up your live stream, but it is recommended that you use your own design for your profile picture and banner, profile accent colour, video player banners and so on. Twitch offers detailed instructions with image sizes and formats here on its help page: help.twitch.tv
# 2 Structuring
Before you start adding things to your channel, you should first consider what you want to include on your channel. If are not streaming as a private person, but as a brand or company, then your channel should contain at least the following information:
Channel description
Imprint and data protection declaration
Links to your social media channels
Link to your own website / online shop
A streaming schedule that shows viewers when you are streaming is also strongly recommended. All of this information can be viewed by both registered Twitch users and unregistered users.
# 3 Channel description
Introduce yourself, your company and the planned content in a few short sentences in order to give future viewers an impression of what your channel is about and what content you offer.
Withdrawal and data protection declaration
If you use Twitch commercially, you must provide a complete data protection declaration and a legally compliant imprint. Since both the imprint and the data protection declaration are very extensive, you can offer a link on the channel to your website or your online shop.
# 5 Links to other social media channels
Do you have one or more social media channels? Then integrate them with a link on your Twitch channel. That way your viewers can interact with you on other social networks.
# 6 Link to your own website or your own online shop
In addition to the imprint and the data protection declaration, you should always include a link to your website or blog and / or your online shop. Regardless of whether you have special offers there or just want to provide information about your products or services.
#7 Streaming schedule
This point is really important because it shows viewers right from the start that this channel offers streaming content on a regular basis. To start with, it is advisable to stream at least two days a week for at least two hours at a time (in general: the longer the live stream, the better). The day of the week (or date), topic, and start (optionally also end) of the live stream should be specified in the streaming schedule. It makes sense to have regular streaming days, for example every Tuesday and Thursday at [XY] o'clock.
Legal Pitfalls with Livestreaming
As on social networks, there are also some legal requirements on Twitch that you should comply with if you do not want to risk a written warning or fine. Here are some examples:
Images and designs: Only use images or designs in your channel or live streams for which you have a license.
Imprint / Data protection declaration: Link to your imprint or your own data protection declaration. Make sure that Twitch is also listed in your data protection declaration.
Product placements: If you would like to show products from other manufacturers in your livestreams, ask permission beforehand. Always get consent in writing
Always Well-Protected with Professional Indemnity Insurance
As you can already see, there are a few things to consider when running a Twitch channel commercially. Because it's only human to make mistakes, and because the regulations also change from time to time – especially in the area of data protection – it's important to have good insurance. Regardless of whether you operate a Twitch channel as an influencer, self-employed person or company: With Professional Indemnity Insurance for Digital professions from exali.com, you're fully covered in the event of legal violations (e.g. copyright, trademark law, personal rights) as well as data protection violations.
Our friendly customer advisors will be happy to answer your questions about professional indemnity insurance and find the best insurance solution for your business.